Beer with higher purpose
A campaign tells the story of a Second Harvest brew made from bread that would otherwise be in the trash.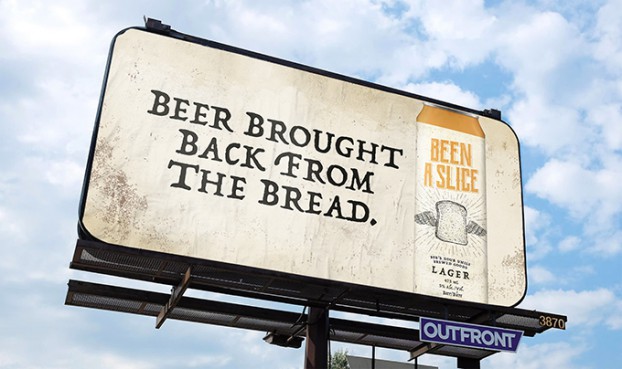 This story appears in the Apirl 2018 issue of strategy.
Bob's Your Uncle has been positioning itself as an agency for "thoughtful food and beverage brands," working with charity Second Harvest and organic brand Yorkshire Valley Farms. However, the shop wanted to mark its move into the "thoughtful" space in a more visible way.
So it created Been a Slice, a beer label that's launching later this year to support Second Harvest's mission to reduce food waste, while also building its own brand affinity. Been a Slice is made entirely from old bread that would usually get thrown out, and funds from beer sales will go directly to the organization.
Debra Lawson, executive director at Second Harvest, says the project fits the org's model of a "circular economy," while generating awareness among younger audiences, which the non-profit is looking to add to its older-skewing donor base.
"There's definitely something here way beyond selling a can of beer and making a couple of bucks in order to give back," says Bob Froese, the agency's CEO. "[If you] want to own a category, create your own. That's what we're trying to do in that space."
Froese says the idea was inspired by the U.K.'s Toast, which has been making bread-based beer since 2015. And while there's no shortage of exotic craft beer names – many hinting towards origin, heritage or quality – the agency chose Been a Slice for its ability to tell the beer brand's "resurrection" story, he says. Been a Slice has "shelf-stopping power" and is a nod to its "higher purpose," adds Froese.
Been a Slice will be supported with digital ads during pre-launch, followed by OOH postings with taglines like "Beer brought back from the bread." Media buys are to be determined, but Froese says they will be focused downtown to capture a younger demo, with some OOH outside the core. Merchandise featuring the brand's bread slice with angel wings logo will also be sold.
While the Toronto agency is still negotiating with the LCBO on placement and signage, the plan is to launch in time for Thanksgiving, when a lot of bread goes to waste. It will be soft-launching in June during Toronto Taste, an annual fundraising event for Second Harvest, and will eventually be served in downtown restaurants and bars.