White Spot aims to own B.C.
The restaurant chain unveils a new creative platform with the launch of its biggest campaign to date.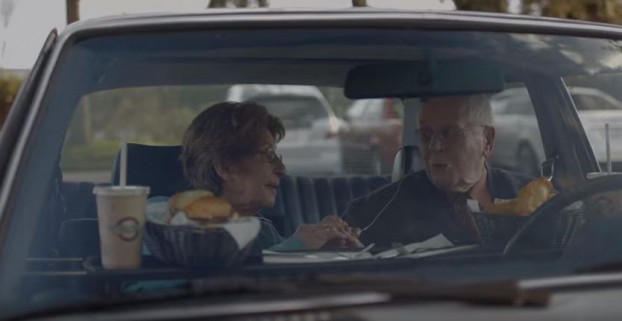 Aiming to "own" the province in which it operates, B.C. restaurant chain White Spot unveiled a new creative platform on Monday with the launch of its biggest campaign to date.
The B.C. restaurant chain switched agency partners in August last year, appointing 123w as its creative AOR and DSA Media as its media partner. The new platform, dubbed "B.C.'s Own," is the first work to come out of that partnership.
Creative assets, including a 60-second TV spot and ads on radio, digital, mobile and social, position the brand as belonging to the province, while painting a picture of a company that is committed to local B.C. communities. They will run for seven weeks.
"One of the things that kept coming up [in the planning phases] is that we're such an iconic brand in the province, and people have such strong emotional connections to the brand," says Cathy Tostenson, White Spot's VP of marketing and menu development. "No one can own the province like we can."
"B.C.'s Own" is the biggest campaign White Spot has ever undertaken, both in scope and in media spend. It includes an out-of-home component – a first for the brand. A billboard in Vancouver dons the slogan, "Our fries are like the rain: Endless."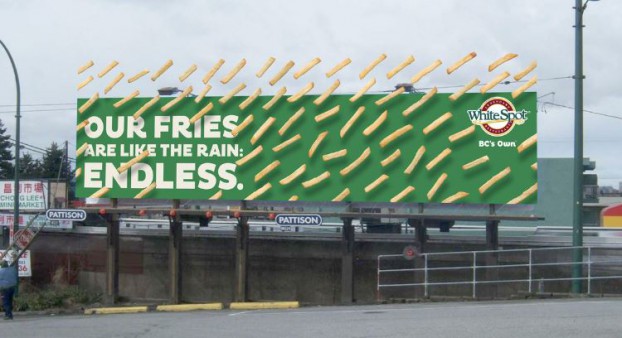 The brand has also brought the "B.C.'s Own" concept to life internally through new staff uniforms and a redesigned menu. Tostenson says White Spot has recently tried to innovate on the menu front with the introduction of a number of vegetarian options.
"We haven't been out in the market in a large way for a while now, and we have a strong platform," she says. "We thought it was time to invest in a big way, both from a spend perspective but also in our restaurants."
In June, the company will be launching another campaign under the same platform focused on promoting its 90th anniversary.
Tostenson says White Spot has always tried to support all things local, a commitment that extends into its decision to continue partnering with locally-based agencies.
With 65 locations throughout B.C., White Spot serves approximately 30,000 customers per day (or 1 million customers per month), according to Tostenson.
While the brand claims to serve everyone from "one to 101," its core customer base remains adults aged 25 to 54, and the current campaign targets three distinct groups: White Spot loyalists, who grew up with the brand; lapsed users who haven't visited in over a year; and new guests mostly stemming from domestic and international immigration to the province.
For the first time in its history, Tostenson says the brand is considering ad placements on ethnic radio to target those potential new customers.