A flag to stop LGBT violence in its tracks
Montreal's Fondation Emergence created an installation to show how working together is the best way to support LGBT communities around the world.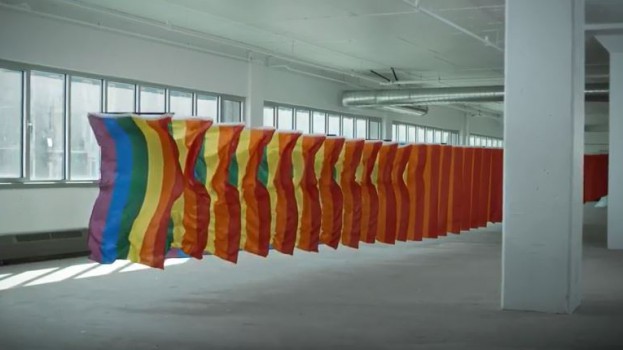 To mark the International Day Against Homophobia and Transphobia today, non-profit Fondation Émergence wanted to raise awareness of the challenges LGBT individuals continue to face around the world.

The Montreal organization worked with agency Rethink to create 'The Pride Shield," made out of 193 layers of Pride flags – one for every country in the world.

A video promoting the Pride Shield features a real-life ballistic installation. A shot is fired into the flags, which have been spread out into a row, showing that they are capable of stopping the bullet in its tracks. Viewers are encouraged to see the shield as a symbol of LGBT activism: working together, communities can put an end to the violence and rights violations faced by LGBT people in many parts of the world.

"The condition of lesbian, gay, bi and trans people tends to better around the world but there's still a lot of work to do to guarantee fundamental human rights to everyone," Francis Viau, a spokesperson for Foundation Émergence, said in a press release. "LGBT individuals are still the victims of physical and psychological violence and we want everyone to know that they can make a difference."

As part of the awareness effort, the organization and Rethink have launched an out-of-home campaign in 15 languages across 120 countries, in collaboration with Montreal photography studio Consulat. In addition, a dedicated campaign website includes testimonies from LGBT activists and info on LGBT rights around the world.

Alex Lefebvre, Rethink's managing partner in Montreal, says the campaign is getting more visibility in Canada through additional wild postings and partnerships, partly because Fondation Émergence is based here. While the campaign has a global message, it was also important to drive that message home in Canada, which tends to consider itself one of the more advanced nations when it comes to LGBT rights.

"We live in one of the most tolerant countries in the world, so we might forget that other countries are not as tolerant or open," Lefebvre says. "We wanted to help raise awareness on this issue and have people realize that we're the countries who should be rallying together and working towards bettering the global situation."

Following the International Day Against Homophobia and Transphobia, the Pride Shield will be put on display in public spaces, and LGBT organizations and non-profit around the world will be able to order the installation on its website.

Foundation Émergence previously worked with Lg2, including last year's "No Matter the Gender" campaign that purposely obscured the the first letter of the pronouns used in print ads.