Ecobee names CMO
Jackie Poriadjian-Asch's mandate includes revisiting all aspects of the connected home company's brand.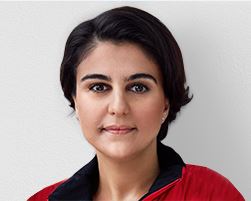 Connected home company Ecobee has named Jackie Poriadjian-Asch as CMO, one of three hires aimed at bolstering its executive leadership.

Her hiring comes as Ecobee looks to drive awareness and gain market share in an increasingly competitive space.

Her mandate includes reviewing all aspects of the brand, from aesthetics to pricing and packaging, according to a company press release. Serving as both CMO and chief revenue officer, she will lead on sales and marketing including Ecobee's end-to-end go-to-market strategy across its products and services.

Poriadjian-Asch (pictured, right) was previously CMO at mixed martial arts organization Ultimate Fighting Championship and apparel brand Canada Goose.

At UFC, she held various roles, including leading its international distribution and overseeing its global brand marketing strategy. She also led the development of Fight Path, a digital streaming service aimed at making the group less reliant on content distributors such DirecTV, Comcast and Time Warner. At Canada Goose, she oversaw an integrated marketing team, helping develop a business intelligence practice.

The Toronto-based company recently secured an additional $127 million in funding, after earning $80 million a few months ago (and bringing its total funding up to more than $200 million), which will allow to continue expanding its suite of smart home technologies.

As a result of the company's continued growth, it has also added Scott Cleaver as chief operations officer and David Brennan as chief financial officer.