Hudson's Bay to sell Gilt
Divesting from the flash-sale fashion site is one way the company is looking to improve its profitability.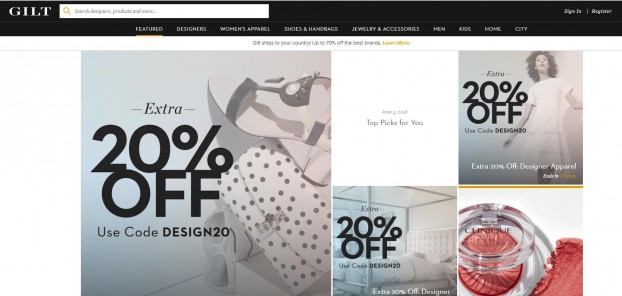 As its first quarter earnings report shows another net loss, Hudson's Bay Company is looking to improve profitability by divesting from one of its online retailers and closing a number of Lord & Taylor stores.

HBC has entered into an agreement to sell online discount fashion retailer Gilt to similar ecommerce site Rue La La.

Gilt was launched in 2007 as a destination for high-end and designer goods, sold at discount during heavily promoted "flash sales." While the site also sells products made to sell at discount, its main attraction is the offer of closeout products from top-tier brands for only short periods of time, which helped to drive excitement among customers once the sale periods opened.

Hudson's Bay bought Gilt in 2016 for $250 million. The company did not disclose how much it sold the site for, but The Wall Street Journal reported the price to be under $100 million, citing sources familiar with the deal. In its earnings report, the company said Gilt generated less than 4% of the company's total sales in the 2017 fiscal year.

Rue La La, founded in Boston around the same time as Gilt, offers a similar "flash sale"-style shopping experience. A press release from Rue La La said that the deal combines "two complementary lifestyle brands into a multi-brand growth platform."

HBC also said it will be closing up to 10 of its 48 Lord & Taylor stores through 2019, including its flagship store in New York.

According to the earnings report, HBC said the move is being done "to better balance the brand's brick-and-mortar presence with its online channels and increase profitability" and will allow the company "to re-think the model and better position Lord & Taylor for future success."

The company reported that it already closed two U.S. stores during the previous quarter, as well as Home Outfitters locations in Toronto and Richmond, B.C. In the same period, it also opened a new Saks Fifth Avenue location in Calgary, three Hudson's Bay locations in the Netherlands, and Saks Off 5th locations in Markham, Connecticut, New Jersey and Germany.

Hudson's Bay reported a net loss of $400 million for the first quarter. The company does not break down earnings of individual divisions, but said that comparable sales rose 7.7% in its digital division and 6% at Saks Fifth Avenue. However, those were offset by a 6.6% sales decrease for Galeria Kaufhof and Galeria INNO in Europe, a 3.5% decrease for the Saks Off 5th discount banner and a 0.6% decrease for the DSG division (which includes Hudson's Bay, Lord & Taylor and Home Outfitters).