HP connects fathers across generations
The brand puts the spotlight on the benefits of physical photos to promote its printers.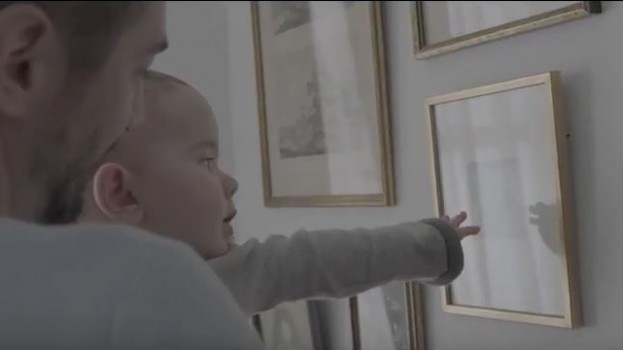 Ahead of Father's Day, HP is continuing its push to celebrate the printed photo as a way of creating human connections with a story about dads over generations.
The company's "Reinvent Connections" campaign launched last week and is the first it has done for Father's Day at a global level, according to Ladd Martin, director of global marketing for HP's home print solutions.
Locally, in addition to running the spot online, HP Canada is continuing to work with influencers and retailers to showcase the benefits of the company's printing products in store, says Esteban Davila, head of marketing for the brand in Canada.
The campaign spot shows a father with his newborn son sitting in the living room of their home. What at first appears to be the boy's grandfather sitting on the couch beside them turns out only to be a photo of the man's deceased father. Although the boy will never get to meet his grandfather, the photo has enabled them to connect on a more fundamental level.
The insight is based on the notion that photos can help strengthen human connections, says Martin. At a time when photos can be easily shared on social media or in digital albums, people aren't printing as many photos as they used to.
"People are connecting less, because of that," he says. "The idea behind this work is that we're really reinventing the way people connect by actually taking them back to the way in which they used to connect with their photographs."
Fred & Farid New York led on creative, with Edelman leading local digital and influencer efforts.
To be able to adapt the campaign locally, Martin says a least a dozen shorter assets were created so that markets could prioritize the pieces of the message that were are most important to them locally, be it quality, pricing or ease of use of HP printers.
"Not only do we want to capture people's hearts," says Martin, "but also want to help them consider this as they get down the purchase funnel with different parts of the story."
Over the holidays last year, HP supported the launch of its Sprocket portable photo printer with its largest consumer-facing campaign in recent years, called "Reinvent Memories." The campaign sought to refamiliarize millennials and baby boomers with the notion of preserving moments in physical form. With its Father's Day campaign, Davilla says the company now returns to encouraging consumers to print their photos at home.