National Bank takes it to the streets
A new campaign fills empty storefronts with small business ideas to connect with would-be entrepreneurs.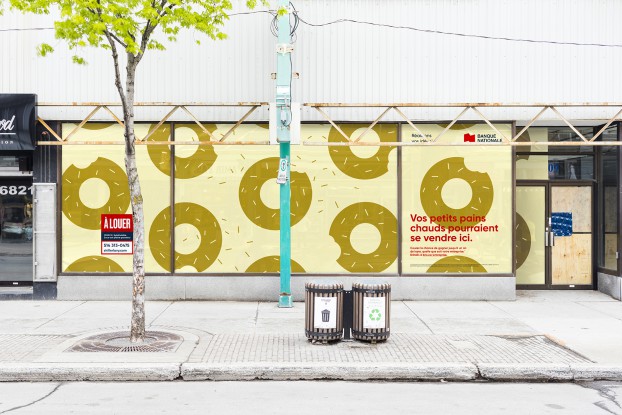 National Bank is getting "louder and bolder" with its efforts to reach would-be small business owners. The brand has launched a new campaign that helps potential entrepreneurs imagine vacant  spaces as the home for their next big idea.
Across Montreal, National Bank and agency partner Sid Lee have placed posters on the windows and doors of storefronts, demonstrating the types of businesses that could fill the space, such as a bakery, cafe, hair salon or optometrist. A typical "for rent" sign provides a number for people to call, and instead of being directed to a real estate  agent, the caller is connected to National Bank. On the phone, they learn that opening a new business account by July 21 will enter them into a contest for $25,000 to put toward their business idea.
The storefront displays went up Monday, while a broader campaign on social will feature videos spotlighting local entrepreneurs and their stories.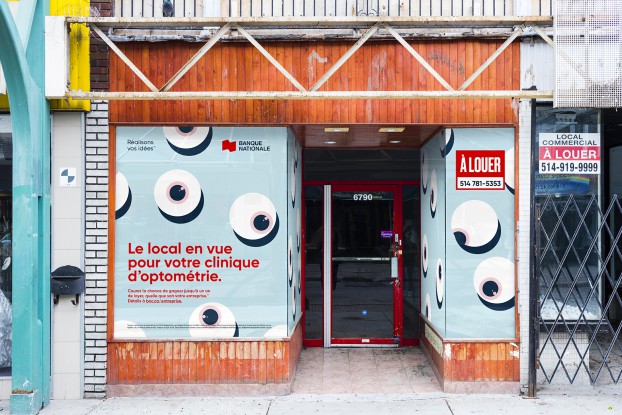 Jean-François Boyer, senior manager of strategy and marketing execution at National Bank, says the bank has a long history of supporting entrepreneurs, having been founded by businessmen who, in part, were looking to serve people in Quebec who were unable to get business loans from other banks at the time. Since then, the bank has looked to support new businesses outside of providing financial services, such as participating in and partnering with startup accelerators.
Boyer says its past efforts to speak to entrepreneurs have been "fairly traditional," but this campaign is meant to be "louder and bolder."
"Being in the places where entrepreneurs are actually doing their business and in the community, we've never done a campaign that touches people that way," Boyer says. "With all the transformation we're going through and all the changes in the market that touch us at different levels, this is a chance to bring a different look and feel in the way we speak to our clients."
Boyer adds that the contemporary visuals of the campaign also bring more vibrancy and energy to a neighbourhood, therefore making it feel more like a place where a small business would want to be located. Julie Provençal, EVP and partner at Sid Lee, also says that being "street level" helps the campaign feel more authentic.
"We're out in the field and inspiring people to open their businesses," she says. "Instead of just doing a big media buy, this helps make it feel like National Bank is actually active and out there in the same places where entrepreneurs are going to be."