Fast Facts: CMOs embrace their roles as growth-drivers
More marketers are beginning to look beyond their brand storytelling mandates, but many still lack confidence in certain areas.
A 2016 global survey on the evolving role of CMOs found that the majority see themselves as drivers of growth. This view was also shared by the senior management within their organizations. But despite their new remits, CMOs described themselves as "trapped in a functional rut, focused on campaigns and moments in time," according to the American CMO Council and Deloitte, which jointly conducted the survey.
The organizations' new follow-up survey of 191 marketing leaders around the world, including Canada, finds that CMOs are beginning to embrace their new roles more fully and are moving beyond viewing themselves primarily as brand storytellers. The second report is based on responses taken during Q1 and Q2 of 2018.
According to the report, marketers "most definitively" define growth as revenue gains, with 95% of executives identifying it as the most important measure. That was followed by gross margin (51%) and market share (49%).
When asked what aspects of growth they are most prepared to impact, 70% of marketers said revenue streams. Fewer marketers feel they have what it takes to influence gross margin (22%) and market share (32%). In fact, "when it comes to realizing improvements in other business-critical points of growth [outside of revenue], marketers' confidence plummets," the report notes.
Nineteen percent of marketers see themselves playing a leadership role on the digital transformation front, and 35% feel they thrive at aligning the brand with the business. But while these numbers indicate that many may be starting to embrace new aspects of their role, most marketers continue to view their primary function as being brand development and storytelling (82%), customer engagement and communications (75%), and media mix modeling (65%).
And the shift towards becoming growth-drivers has not been easy. It has required marketers to acquire new skills. Among the various skills that have helped them progress with their new agendas, 56% point to knowledge of data and intelligence analysis, 50% to knowledge and insights into the market, and 49% to having a "holistic view of the customer journey."
While many challenges remain, those surveyed feel confident they will succeed at achieving their growth goals. Only 3% felt that success was unlikely without some form of transformation or radical change, and another 3% felt they were losing ground. A total of 64% felt they were either fairly well or extremely well-positioned to achieve their goals.
How organizations define growth and the areas marketers feel most prepared to impact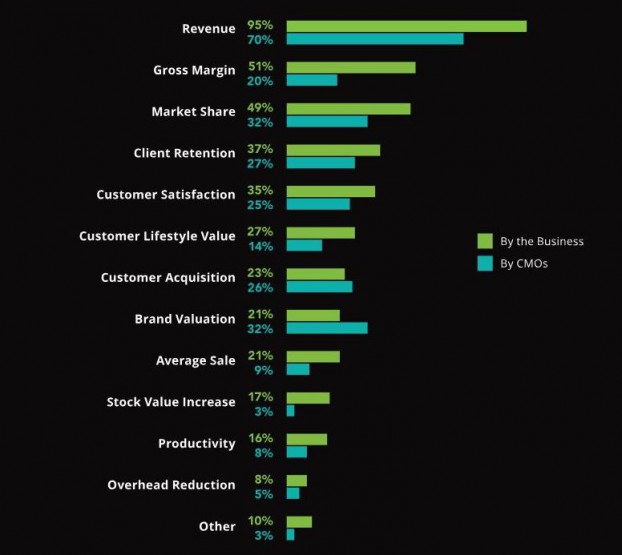 Source: CMOs and the Spark to Drive Growth (CMO Council 2018)