6S Marketing, Drive Digital merge to create Major Tom
The new agency will feature an expanded service offering and over 75 staff between three offices.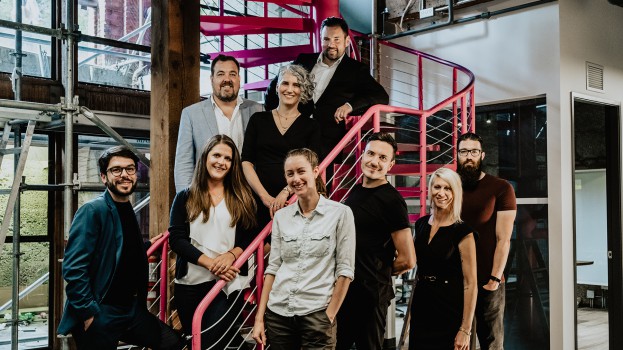 6S Marketing and Drive Digital have merged to create Major Tom, a new agency with an expanded service offering to answer client need for "a one-stop shop."
6S was a digital agency focused on direct response, automation, social media and content strategy, while Drive focused on web development and design. While Major Tom will still be a "digital-first" agency, it is moving "up market" to bring a more holistic creative and strategic offering, from creative services in traditional platforms like print and out-of-home, to more consultative services.
"We've been a tactic driven-agency for so long," says Chris Breikss, who co-founded 6S  in 2000 and Drive in 2012 with John Blown. "We would rush into projects for clients that needed help with a new website or AdWords or paid social. After 18 years, we've matured and are now asking why that is the best solution. So we're trying to take a step back, analyze not only the Google analytics but the business analytics and look at the business as a whole. We've been calling ourselves a digital agency, but the problem with that is that digital is table stakes now."
While the sister agencies co-habitated in the same building and often worked very closely on projects, they operated independently of one another, with their own goals, staff and workplace cultures. Once merged, Major Tom will have a team of over 75 staff between its offices in Vancouver, Toronto and New York, with its Vancouver headquarters opening a new 10,000 sq. ft. studio space to house its team and new services. The combined client roster includes brands such as Pirelli, NBC, Orkin, NYU, KPMG and Bulletproof.
Breikss says the initial plan was to simply evolve the service offering at 6S, without a merger or full rebranding. A visit to a Google conference last year changed those plans.
"Google was going to automate a lot of what we've been doing, especially on the paid media side of things," Breikss says. "Within five years, a lot of our strategists would be out of the job. That might have been an extreme way to look at it, but it did make us go back to the drawing board and decide what our agency is going to look like in the future."
Working with brand strategy firm Frank Strategy, the decision was made not only to come up with a new name for the agency, but to merge the agencies to help in its goal to develop a more holistic service offering.
"We already had roughly 40% of our clients shared between the analytical and data and scientific side of the business and the creative side of things," Breikss says. "Our clients have indicated that they don't want to deal with specialist agencies. The tide has turned a bit, and we're seeing the next phase in the cycle where clients want a one-stop shop again."