Takis uses reverse psychology on snackers
The brand launched in Canada with a campaign telling consumers its tortilla chips are too spicy, too crunchy and too intense.
Snack lovers are being warned to steer clear of Takis the next time they are in the grocery aisle.
The rolled tortilla chip brand is purportedly so spicy, so crunchy and so intense that the company is serving would-be buyers with a warning not to eat them in a new "Don't Eat Takis" campaign by Cossette – its first for the Canadian market, after having launched here last summer.
The initiative is a tounge-in-cheek attempt at reverse psychology, telling consumers not to buy so they will be goaded into doing the opposite.
Creative assets emphasize the brand's flavour characteristics. In one ad, a burger devouring a lime-coloured bag of Takis captures the impact of "Angry Burger," a flavour whose taste is equivalent to "swallowing an entire burger in one shot." In another, a blazing red-hot bag warns that Fuego is "basically like eating flames."
Takis has strong brand awareness in the U.S. and Mexico, where it has been available for more than 20 years. However, the brand is "relatively unknown" in Canada, says Heather Crees, SVP of marketing at Canada Bread, the Grupo Bimbo subsidiary that manufactures them in this market.
Overcoming that challenge meant needing to take an unconventional approach to a category that is highly competitive, she says.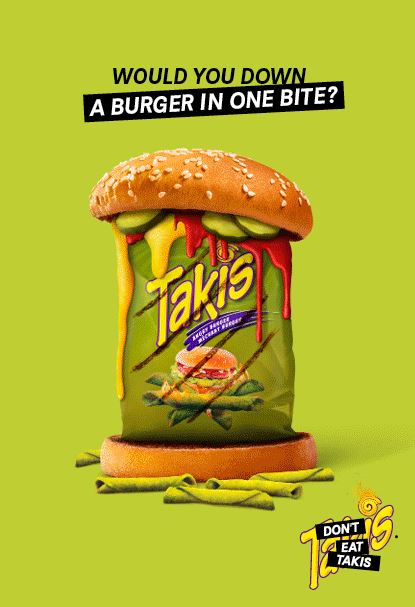 Company research showed that reverse psychology would resonate well among young adults – the brand's core consumer – and other snack lovers craving new experiences and flavours.

"A typical snack campaign would have branding and product benefits front and center. We chose to do the opposite," says Crees. "Once we decided to go with reverse psychology, we had to go all the way to really stand out."

The campaign, in market since May, will run into the fall. In addition to an experiential activation that featured a vending machine that spit bags of Takis out at people, the campaign includes out-of-home posters, a donteattakis.ca website and social executions, with Spark handling media. Over the coming weeks, additional influencer content will be posted on social.