Johnson Insurance launches rebrand and new campaign
A big, helpful dog is helping the east coast insurance company increase its brand awareness across Canada.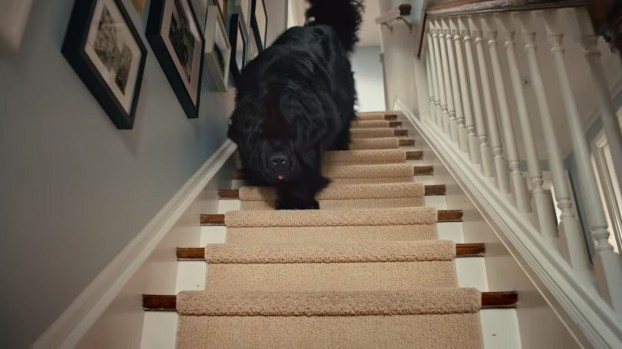 Johnson Insurance hopes its brand relaunch will help it stay top-of-mind across the country with the help of a very good boy.
In a new campaign spot, a Newfoundland dog named Johnson is introduced to Canadians. While Johnson is big and bumbles a bit through his home, he is also very helpful, friendly and dependable – the main values Johnson as a company wants to reflect – delivering newspapers and preventing his owner from destroying a toy.
Johnson Insurance worked with FCB on the campaign, while Powered by Search handled media and Church+State (formerly known as The Tite Group) handled content and social.
Johnson the dog is also appearing live at events and in creative on social, direct mail, as well as on the brand's relaunched website. Laura Henry-Jeavons, who was named head of marketing, digital and brand for Johnson Insurance in February, says this is the first time the brand's creative approach has been integrated across all channels.
"The way customers are shopping for insurance has changed," she says. "They don't do it in a linear way. Previous campaigns worked because customers got direct mail and called the number. Today, they get that direct mail and then go online and social and talk to friends to find out more. We needed to make sure our campaign touched every single element."
While Johnson has strong brand awareness in its home province of Newfoundland and throughout Eastern Canada, Henry-Jeavons says a major goal with this campaign and brand relaunch is to raise awareness in the rest of Canada. Johnson the dog is the company's first mascot and brand ambassador, one the company believes will help keep it and what it wants to stand for top-of-mind.
"We needed a point of difference, and a dog with the same name as our company is something people will remember pretty easily," Henry-Jeavons says. "We didn't want to reinvent ourselves with this brand relaunch, but we looked back at our core personality and saw that we're friendly, caring and hard-working. Insurance is really about being by your side and your best friend in times of need. A Newfoundland dog brings that to life in a way that also alludes to our roots in Newfoundland without overtly stating that."

Henry-Jeavons describes Johnson's previous marketing as more serious and focused on specific services. She says the new approach, with a friendly dog who makes cheeky quips in ads, will help bring more of a friendly personality to the market.

"He has a personality that wasn't there before," she says. "We think that's something customers will engage with, while dealing with what can be a serious subject."