Aimia rejects Air Canada bid, partners with Porter
The company's Aeroplan program will make the Toronto-based airline a preferred partner in 2020.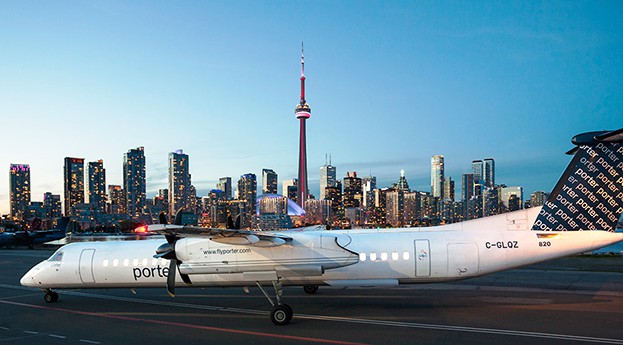 Aimia has rejected an Air Canada-led bid to acquire the Aeroplan loyalty program, instead coming to an agreement with Porter Airlines to form a new points partnership.

The new agreement will come into effect in July 2020, when the program's current deal with Air Canada expires.

Porter will become a preferred Canadian airline for the Aeroplan program, and will also offer up to 60% of seat inventory for the purchase of flights with Aeroplan Miles at fixed-rate prices. The arrangement will also include a cooperative marketing program targeting existing Aeroplan members, with an emphasis on members who travel on Porter routes.

Points from Porter's existing VIPorter loyalty program will be converted to Aeroplan miles when the new agreement comes into effect. However, the VIPorter program will still be maintained as a way to give frequent flyers access to benefits outside of collecting points, such as priority boarding, complimentary seat selection and checked baggage allowances.

Porter has a significantly smaller fleet and serves fewer destinations than Air Canada. Its hub is the Billy Bishop Airport in Toronto, and considers Ottawa, Montreal and Halifax its "focus cities," with service reaching a total of 23 destinations including Thunder Bay, Windsor, Quebec City and Moncton, as well as U.S. locations such as New York City, Chicago, Boston and Washington, D.C. However, Jeremy Rabe, Aimia's recently named CEO, said in a press release that Aeroplan is looking to further diversify and strengthen its airline offering in 2020, and has already been working on ways for members to redeem points with various international airlines as part of its plan to revamp the program.

On Porter's side of the deal, EVP and chief commercial officer Michael Deluce said this is an opportunity for the airline to "join a well-established travel loyalty program and, in the future, reach its vast member base to aggressively promote our airline," adding that existing VIPorter members will benefit from the ability to earn and redeem points with other airlines and brands.

Last week, a consortium led by Air Canada that included TD, CIBC and Visa revealed details of a hostile bid to purchase the Aeroplan program from Aimia under a new corporation. Air Canada had previously announced it would not renew its current partnership with Aeroplan in order to launch its own loyalty program in 2020, and the bid – had it been successful – would have provided the foundation for that program.

Aimia also announced its Q2 results this morning, reporting an $11.1 million net profit, with revenue up 3.9% to $375.4 million. The company says it is making progress on plans to revamp its business, as Q2 results in 2017 showed a net loss of $25.1 million and revenue of $361.3 million.