Freedom Mobile tells customers they deserve to be free from fees
The telco is pitching its Big Gig plans as the solution to consumers' troubles with data overage charges.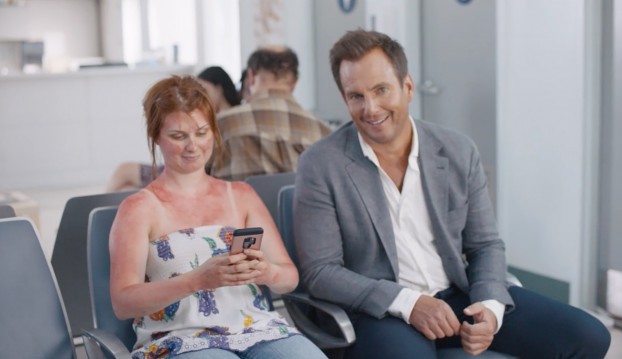 If you own a mobile device in Canada, chances are you've been hit with data overage charges at one point or another. In fact, as many of 46% of consumers pay additional overage fees over the course of a year, according to a 2016 survey by the CRTC.
It has become a major pain point for Canadian mobile users who pay among the highest rates in the world, and it's one telco provider Freedom Mobile is addressing in a new "You Deserve Freedom" campaign.
The creative, by agency Rain, features comedian and actor Will Arnett, whose pointed commentary on the state of wireless fees makes him the campaign's de facto champion of Canadian wireless customers. Assets are running across TV, radio and out-of-home, as well as digital and social.
In his characteristically gruff, no-nonsense manner, Arnett is seen in one spot intervening as a father appears ready to send his daughter off to school – where she'll be taking pictures 24/7 – without sufficient data. In another, the actor surveys a range of people waiting in a walk-in-clinic, commenting on how they're all awaiting bad news: a text from their provider saying they've exceeded their data limits. A third video is presented as an intervention, with Arnett ranting about the industry's many failures and drawing attention to the "fighting" that results between family members who share a data plan.
"There are few times in my career where the starting point has been so obvious, where there are such clear, demonstrable issues with pricing in a category, that you can laser in on it and know that you're going to succeed in terms of having a penetrating message," says Paul McAleese, president of wireless at Shaw Communications, which owns Freedom Mobile.
Over the last year, Freedom Mobile has made improvements to its network, added the iPhone to its offering and launched what it calls its "Big Gig" plans, which includes 10 gigabytes of data for $50 a month. The launch of the offering late last year saw other Canadian wireless customers, including Rogers' Fido, Bell's Virgin and Telus' Koodo, attempt similar plans for a limited time.
"We hit this sort of maturity as a business that we previously never had, and it has really just changed the customer experience," says McAleese. "We felt the next stage in that deliberate growth strategy was to more directly contrast this new freedom experience with our competitors."
Creative was handled by Rain, which dropped the 43 from its name after expanding nationally in May (its Toronto office continues to be called Rain 43).
The Big Gig offering is one of the most competitive in the market, but while "we had that ready to go, we needed more of a narrative; we needed more of a story to really put out there and tell Canadians that we get it," says Laura Davis-Saville, VP and head of strategy at Rain.
The goal was to "establish, from a tone perspective, a transparent, honest, on-the-side-of-Canadians brand that brought a little more authenticity to the category," says Davis-Saville.
The decision to approach the campaign with light-heartedness was the result of not wanting to "vilify" and blame customers who have had negative experiences with data overages, according to McAleese. In that sense, he says Arnett, who plays the role of the "humorous, irreverent, smart friend," was the perfect fit.
The latest work is a departure in style from Freedom Mobile's previous marketing. In December of last year, it retired its Freddy the Freedom Bear mascot, which launched in November 2016 as a way of helping Shaw transition the brand from its previous Wind Mobile moniker to Freedom Mobile. Subsequent marketing efforts focused more on specific plans and offerings.
The company plans to work with Arnett for at least the next year, says McAleese, who believes there are other pain points that are worth eliminating in the wireless space, some of which have seasonal relevance. This first campaign, focused on family plan issues, was launched as students prepare to return back to school.
While data overages are an issue that essentially affects every Canadian with a mobile phone, McAleese says the brand is focused on reaching a large swath of the population, the "new emerging subscriber class that is enormously data-centric," especially now that it has device parity with other carriers.
He says its Big Gig pricing plans have attracted a wide range of customers for whom data is a priority – from the young adult interested in using over-the-top apps on their first phone, to the small business owner who spends their day managing customer inquiries from their device.
Shaw currently operates in the Ontario, Alberta and B.C. markets. Ontario is the brand's largest wireless market and represents the majority of its current subscriber base, according to McAleese.