Egale and Sid Lee Collective target the stigma of blood screening
"Blood Surrogates" draws attention to the discrimination queer men face while still supporting much-needed blood donations.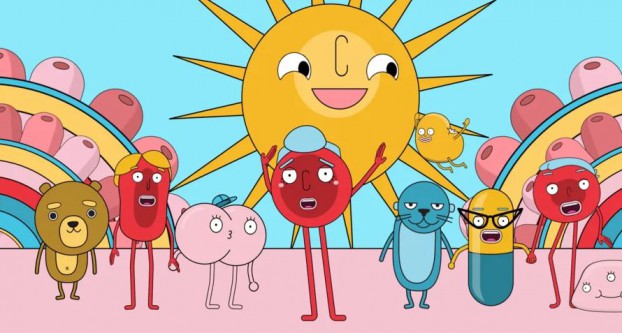 Men who have sex with men (MSM) continue to be barred from donating to Canadian Blood Services within one year of being sexually active, a practice many have criticized as stigmatizing and discriminatory.
A new "Blood Surrogates" campaign by Egale Canada Human Rights Trust and Sid Lee Collective draws attention to the stigmatizing nature of this one-year celibacy requirement, while encouraging blood donations to the organization – which is currently facing a national blood shortage – through the use of "blood surrogates."
In an animated video, a character by the name of Gary the Gay Blood Cell personifies the key message of the campaign – namely, that "Gay is Not a Blood Type." Through song, Gary makes the case for blood equality and calls on Canadians to join the cause, while using a pointed and "sassy" tone (along with sexual innuendo) to poke fun at the generalizations made by those enforcing the ban.
The effort is being supported with banner ads, social content and a microsite where users can learn more about the cause and either become a blood surrogate or request one. Website visitors have access to customized, shareable social posts bearing the messages "Be My Surrogate" or "I Am a Surrogate." Bandages with sayings on them and glitter-filled blood bags are also being distributed as part of the campaign.
It's discriminatory and stigmatizing for CBS to screen MSM based on sexual orientation and gender, argues Mark Fellion, director of development at Egale, a charitable organization that supports LGBTQI2S people in Canada. Ultimately, the goal of the campaign is to change Canada's blood screening process to be based instead on behavioural risk.
"The idea of combating the negative impact of this policy with the positive advocacy of blood surrogacy felt like a fresh way to draw attention to the ridiculousness of the ban while still supporting the critical need for blood," says Jennifer Rossini, creative director at Sid Lee. "The idea is to show Canadian Blood Services just how much blood they're missing out on by maintaining these outdated screening practices," as exemplified by its current blood shortages.
"A surrogacy partnership between someone who can't donate based on their sexuality alone and an ally who can – this becomes a very public and actionable way for Canadians to show their support for change," says Rossini.
Fellion says the idea is to put pressure on CBS by raising awareness of the issue and hopefully, by the campaign's end, be able to show that it "could easily have doubled their donations had there not been a ban."
The campaign concept was developed by Sid Lee Collective, the agency's creative incubator. Fellion says Egale decided to work with Sid Lee Collective after having seen its work on the Rainbow Railroad campaign last year. He says that effort showed the agency group was able to deliver an effective campaign to not only raise awareness of a social issue, but also encourage action.
In 2016, Health Canada reduced its five-year abstinence requirement for MSM (originally a lifetime ban) to 365 days.