Lg2 Toronto launches design and branding discipline
The new offering, supported by three hires, follows the agency's expansion in Toronto.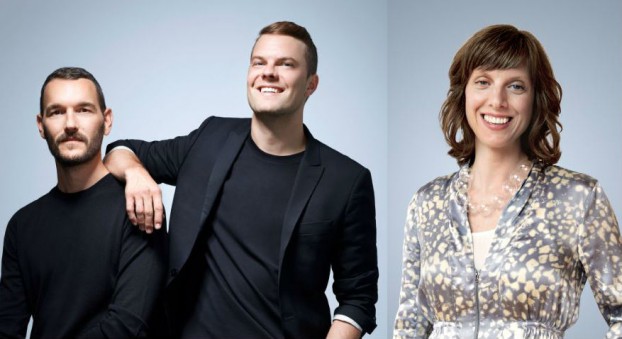 From left: Lg2's Ryan Crouchman, CD of design; Antoine Levasseur, group director of design; and Tara Greguric, director of creative production services.
Lg2 has launched a new design and branding discipline within its Toronto office.
The practice will be led by new hires Ryan Crouchman, CD of design, and Antoine Levasseur, group director of design. They are joined by Tara Greguric, who steps into the role of director of creative production services.
"It was always in the plan to build out our design and branding capabilities on a national basis," says Jeremy Gayton, president of Lg2 in Toronto, adding that the team was waiting for the right talent to support and for more client demand before launching. Lg2 Toronto has offered design and branding services through the Montreal team for the last four years, but recently it had started to see more need from local and national-based clients, says Gayton.
Crouchman joins from Leo Burnett, where he was group CD of design since 2013. His experience spans branding, print, editorial and interactive design across various sectors, including cultural, financial, retail and fashion. His work has been recognized at the D&AD awards, the One Show, Cannes Lions, Clios, Communication Arts and Andy Awards. Crouchman worked on award-winning projects and campaigns such as "Brunch Your Way" for Smith and "Printed by Somerset," which helped Leo land strategy's Gold Design AOY last year.
Having worked at a number of agencies, Levasseur rejoins Lg2 after spending the last two years building out the design capabilities at Sid Lee Montreal. Prior to Sid Lee, he was a branding and design account manager with Lg2 (where he contributed to the Cannes Lion Silver-winning Rethink Breast Cancer Give-A-Care project) and an account manager at Cossette.
Greguric arrives at Lg2 with experience building national and international print campaigns. Prior to joining the agency, she was a print production manager at DDB Canada and held the same role at Taxi Canada before that.
The launch of the new discipline follows Lg2's expansion in Toronto, with the arrival of several hires, including Caitlin Gora as strategy director, in response to a number of recent business wins. To accommodate the growing team, the agency has moved into a newly renovated office space.
Early last month, Lg2 added to its creative department in Montreal with the hiring of creative duo Adrien Héron and Ugo Martinez.