Tech in Action: Terry Fox's 'tap-to-donate' billboard
Grip worked with payment company Square on a digital billboard to raise funds for cancer research.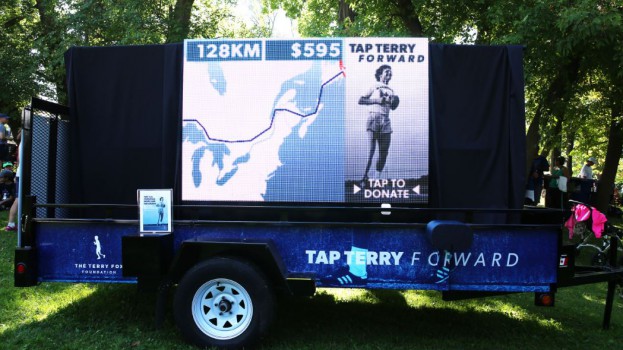 As the Terry Fox Foundation looks to recruit a new generation of donors who may not already be familiar with the Canadian icon, agency Grip worked with payment company Square on a "tap-to-donate" billboard for this year's Terry Fox Run.

The "Tap Terry Forward" component of the campaign helped raise funds for cancer research by allowing people to donate money right on the spot (using debit, credit or Apple Pay), while driving awareness of the foundation and its run, says David Crichton, partner at Grip.

Launched a few days prior to the Sept. 16 event and in market for about three weeks, the system was calibrated to pay in increments of $5. With each tap, a digital version of Terry Fox would advance across a map of Canada (towards Terry Fox's original intended goal of the West Coast), bringing the organization closer to reaching its fundraising goal for the year. Once a certain threshold was reached, the map would reset.

Grip developed the activation with Square, a contactless payment solutions provider. The idea was to build a mobile installation that could travel to different locations, park in high-traffic locations or even visit schools – which account for about 70% of the foundation's donations, according to Crichton. He says Grip came up with the idea as part of other Terry Fox tech-focused activations last year (such as a downloadable playlist), but "couldn't get it implemented because we just weren't there with the tech yet."

Now in place, the foundation decided to purchase the billboard outright in order to use it in future campaigns. This year, it aligned with the theme of a larger campaign that had a digital/social bent, says Crichton. Assets running on TV, radio and OOH reminded people that Terry Fox had "0 likes, 0 posts and 0 shares" but millions of followers.

While the primary goal this year was more "proof of concept" than actually raising funds, Crichton says the organization hopes to see donations ramp up during future campaigns.