Advertising Week 2018: Living in uncertain times
Agents of Necessity CEO Sarah Ivey explains why tension between the big issues might be what the industry needs.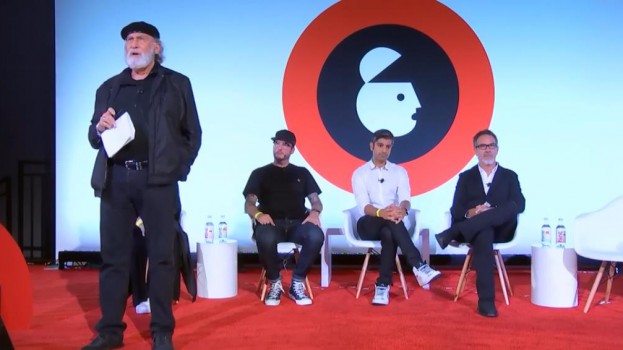 The mood at Advertising Week New York this year was a little uncertain, and it's coming from every corner of the industry.
The consultancies aren't as upfront as they were last year, the influencers less buoyant and the data and tech people are more interested in asking questions than answering them.
One moment, however, stands out for me. Bob Greenberg of R/GA stood in front of a packed house and said their agency now has to pivot every year, calling what we're experiencing now "the deconstruction of our business model." He sounded a bit at sea. And he was one of many.
Perversely, my belief is this is good for the industry. We make the biggest leaps when we're confronted with massive change. I've isolated three big areas where the discussion and tension between ideas was most intense and holds the promise of the most transformation.
The "New" Mass vs. the Intimacy of Personalization
The conference kicked off in the aftermath of Dr. Christine Blasey Ford's testimony, which was apt on two counts: the diversity and inclusion debate was everywhere, and the testimony pulled in a whopping 20 million cable viewers, the kind of numbers that make brands and agencies sit up and take notice and putting it in top five show network territory.
Are we seeing the emergence of the "new" mass? These cultural moments are few and far between, but they leverage debate around the issues that drive serious emotional response, and they're difficult for brands to ignore.
On the other end of the spectrum is the possibility of data to finally deliver personal, almost intimate messaging. It's a big bet in the ad industry. On Monday, IPG completed its acquisition of Acxiom for $2.3 billion, and interestingly, their panel was a lesson in where data falls down. The panel, with great speakers from the financial and auto sectors where data is really robust, talked about the very fine line between personalization and "creepiness". Joanna O'Connell from Forrester admitted that the most vital data, the emotions and mindset of the customer, really don't exist in large datasets.
For brands needing to drive deeper emotional connections with their customers, there are some challenging choices to be made.
The Rise of Belief Brands vs. Brand Purpose
A couple of years ago, purpose-based branding was front and centre. This year, that stream of thought has been replaced by what I'm calling "belief-based branding."
There was a real feeling that it's simply no longer enough for a brand to be true to its roots. There's an increasing impatience for change, both in society and within the industry. Taking a personal stand is no longer taboo – it's welcomed. At a panel with the team behind Saturday Morning's work on gun violence and race, Keith Cartwright from 72andSunny said, "I think we're living in a world where brands have more responsibility than governments."
Leadership within marketing departments and agencies also need to sit up and pay attention to this movement. The progress of diversity across the ad industry has been woeful. Kathleen Hall from Microsoft is mandating a program with her agencies to drive change in hiring, training, and retention of truly representative teams. It seems that she's one of the few.
Play Nicely with Others vs. Not Sharing my Toys
All the client's business. All the data. All the eyeballs. All the clicks. There was a real debate about whether monopolies and walled gardens serve customers and clients long term.

When CMOs took to the stage, their holy grail is a single view of the customer. What supports them is an agency ecosystem that makes their customer experience memorable. The marketer mandate is also shifting. Kristin Lemkau at JPMorgan Chase characterized her role as CMO as also head of product and head of growth. When marketers need to shift and collaborate internally, they expect their agencies to do the same.

There are those who think that mass integration and consolidation are the way forward. John Swift from OMG went on record to say, "The future belongs to companies who deliver three things: content, ad-tech and distribution. There will be only four, five, maybe six companies who can."

That's his point of view. The current reality is that complex agency ecosystems are by far the norm, and that best-in-class and playing well with others seems to be the current winning strategy. This is true of agencies, publishers, vendors, ad-tech, and data.

As Bryan Lesser from Xandr, AT&T's new ad-tech unit put it, "the industry is fraught with egos. Thankfully I have low self-esteem, so I work well with these people."

Sarah Ivey is founder and CEO of communications strategy agency Agents of Necessity.