Show your brave face
Editor Jennifer Horn explains why it doesn't hurt brands to be bold.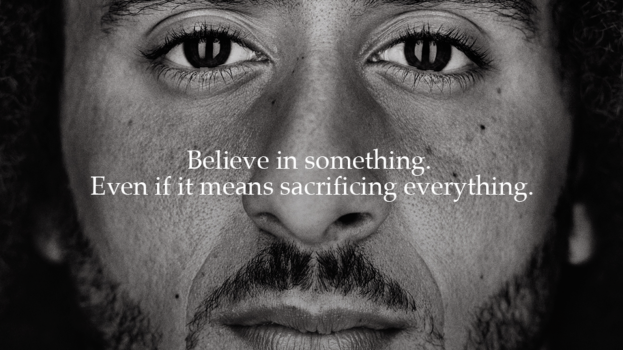 This story originally appeared in the October 2018 issue of strategy.
In September, nine words and a single headshot prompted a barrage of burning sneakers, store boycotts and calls for protests.
Over the days following the release of Nike's "Just Do It" campaign, featuring Colin Kaepernick, some thought-pieces questioned the brand's alignment with the former NFL quarterback as capitalism piggy-backing on activism. "To be sure, Nike is riding the zeitgeist of athlete activism, not creating it," wrote professors Ben Carrington and Jules Boykoff in The Guardian.
While that may be true, it's also not really a surprise. The brand's show of support for a man at odds with the States' systemic racial discrimination is simply Nike being, well, Nike. This is the same company that essentially gave the French Tennis Federation the middle finger in a social post after Serena William's catsuit ban. And while it faces (what will be short-lived) consumer backlash, and a weak trading day on Wall Street, it will eventually reap the brand-building results of playing the long game.
Nike has long made a name for itself as brave in the face of social injustice, prejudice and inequality. By believing in that counterculture position – which appeals to millennials and Gen Z – Nike didn't have to sacrifice everything to build on its brand promise. The apparel company long ago found its raison d'être and it's rarely steered off course.
We see a commitment to being bold in Moose Knuckles, one of the Canadian-born and global-growing brands featured in our cover story this month. Born out of the 2008 recession, defiance is in its blood. While Moose Knuckles is building a rebellious brand for the "creative class," Canada Goose has been steadfast in aligning itself with film buffs (which also harkens back to its Hollywood North roots), and Mackage has come up as the luxe parka for the sophisticated urban-dweller.
They've each carved out a niche for their brands, however Moose Knuckles has been curiously avant-garde with its marketing, setting up alliances with a porn site and getting itself in hot water with videos of fictional "separatist" groups. While not for everyone, it's certainly a strategy that gets noticed, and has legs to grow the brand beyond Canada's borders.
On that note, boldness is not just reserved for the brands facing consumers. It can, and should, be transferred to the leadership within those marketing organizations. Where have all the brave media mavens that take a stand for the industry's plaguing issues gone? That's one of the questions execs gathered to (at times, fiercely) answer at a roundtable discussion for the October 2018 issue of strategy magazine.
The insights and marketing strategies gleaned from this year's crop of Brands of the Year – from IKEA's evolving dedication to people and the planet to RBC's increased investments in innovation – demonstrate their own bravery to commit to something bigger. And while your brand doesn't have to take a political stand or lobby around an altruistic cause, it should stand for something – and it doesn't hurt to be bold.