Is there a gap in how halal consumers are served?
With a growing Muslim population in Canada, a study by Nourish Food Marketing shows an ongoing missed opportunity.
Nourish Food Marketing has released its fifth annual halal shopper study, revealing data about shoppers that remain underserved.
Halal refers to what is permissible in terms of food consumption under traditional Islamic law. The marketing agency found that the Muslim population in Canada is fast-growing, and an important consumer base for this study: recent Statistics Canada data estimates Canada's Muslim population to be 1.4 million and projects it to exceed the size of the Chinese Canadian market by 2021.
The study surveyed over 1,000 principal grocery shoppers. The report revealed statistics about the rising expectations from the halal shoppers: 57% of respondents do not believe grocery food chains are doing a good job of meeting their needs, while 62% feel the same way about major food companies. These rates have remained at about the same level for the past five years, the study states.
The report found that 17% of Muslim households have more than one generation living within it, in comparison to the average Canadian household at 3%. "The takeaway from this finding is that retailers and manufacturers should understand that the person who is doing the grocery shopping is not always the one who is cooking," says Salima Jivraj, head of Nourish Multicultural and founder of the media company Halal Foodie and the Halal Food Festival. "This is where brand names have to stand out and certifications become important part of it."
The study also found that bigger Muslim households prefer larger pack sizes of halal products and that the shoppers tend to go to two or more stores, as all of the halal products they are looking for are not necessarily available at one location.
Another finding was that the majority of halal shoppers seldom or never use traditional media like community-based print or TV. "Ethnic media may not be as relevant a spend as it was in a pre-digital age," says Jivraj, revealing that the respondents usually heard about new halal products through word of mouth, experiential or social media channels.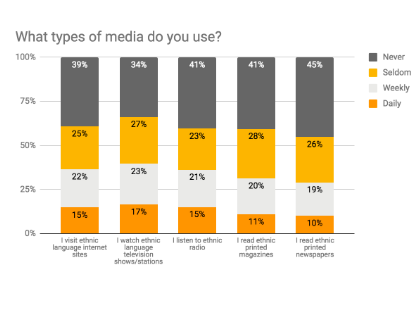 The survey also tapped category trends by asking what foods or categories are considered halal by default. "We found very large gaps. Apart from produce like raw meat, the survey respondents did not find any other aisle in the grocery store to be trustworthy," says Jivraj. "This brings the opportunity for retailers to have halal certification, because such things are not obvious on the ingredient panel of a product. Every food has a lot of animal bi-products and the consumer knows that."

"All companies should be rethinking their overall multicultural spend, as most are underspending against the halal consumer," says Jo-Ann McArthur, president of Nourish Food Marketing. "Where other market categories see a growth of 1-2%, the Halal market is growing between 10-15% annually. Companies can no longer afford to miss this consumer."