AGF Investments highlights the global impacts of local markets
The asset management firm asserts its global perspective and reach during phase two of a rebranding effort.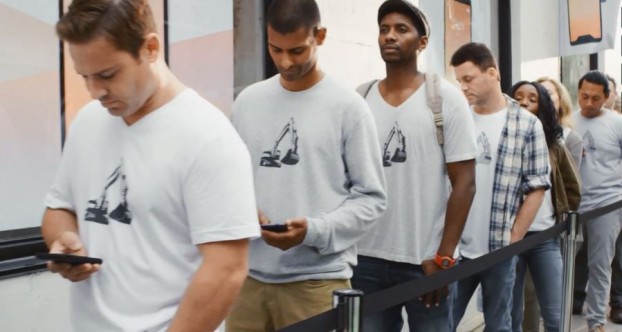 One year after rebranding and bringing forward a new "Invested in Discipline" positioning, asset management firm AGF Investments is running a campaign to highlight its global perspective and reach among financial advisors.
The "There's no such thing as a local market" campaign launched on Oct. 8 and will run through the end of the year. Led by creative agency Camp Jefferson, it's largely a continuation of the work that helped launch the new AGF, along with a new logo, website and "Invested in Discipline" tagline, last year to mark its 60th anniversary.
"As we start to break down how we think about discipline, we've concentrated on three principles – shared intelligence, measured approach, and active accountability," says Karrie Van Belle, SVP and head of marketing and communications at AGF, who was brought on to lead the rebranding efforts two years ago. "With this new campaign, we're focusing more on the pillar of shared intelligence and thinking about our global perspective."
The campaign spot shows a number of people waiting in line outside a store to purchase the latest tech gadget. While demand for the product may be local, in reality, it has been fueled by activity in many global markets, including those where its materials are sourced and those that produce, ship or transport it. "Before that new tech gets to that store in the local market," says Van Belle, it has "very much had a global impact."
To emphasize its global perspectives, Van Belle says AGF is working to highlight that it has 60 investment professionals located in six countries across North America, Europe and Asia. "It doesn't mean that we're just thinking globally," she says. "It's the fact that we actually sit and connect from a global perspective."
"There's no such thing as a local market" is appearing on TV, with 15-second adaptations for digital and social. Meanwhile, OOH elements help make a similar statement. For example, one sign suggests that growth in autonomous vehicles will drive demand for global cloud computing and data storage.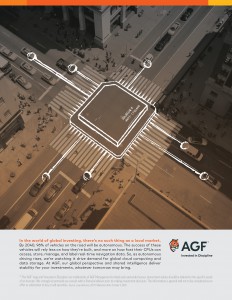 Working with Jungle Media on media, AGF's primary target is financial advisors, although it is also hoping to reach investors through digital placements on business news channels, such as BNN Network and trade magazines. While it appears to have taken a mass approach – placing ads on channels like Sportsnet and TSN in a bid to reach advisors "outside of the office" – Van Belle argues that it would require investing "many more millions" into its media spend to qualify as such. "The thing to keep in mind is that financial advisors do also watch TV."

Last year's effort focused on the broad principle of discipline and helped established the three brand pillars that stemmed from that. In addition, AGF began delving into those principles outside of its advertising, through its direct and online communications with investors. Now it's looking to bring those principles to life in its marketing campaigns.

Since rebranding, AGF has seen improvements across all key performance metrics, including "first mentions" or top-of-mind awareness, according to Van Belle. A pre-rebrand, baseline survey pegged AGF at 0% for first mentions, demonstrating very low top-of-mind awareness. But a post-rebrand survey conducted in April in May showed the brand had jumped to 6% on that metric. While that number may not seem like much, says Van Belle, it exceeded the benchmark percentage for total mentions.

Moreover, a third-party study showed that AGF has jumped to 95% in 2018, up from 74% in 2016 (and from a low of 12% in 2013), in terms of how many financial advisors know what the brand stands for.

AGF continues to run the ads from last year's campaign, including one focused on recycling, to build continuity across its communications.