Interval House sets up a booth at a wedding show
The shelter for women showcased products at Canada's Bridal Show to raise awareness about spousal abuse.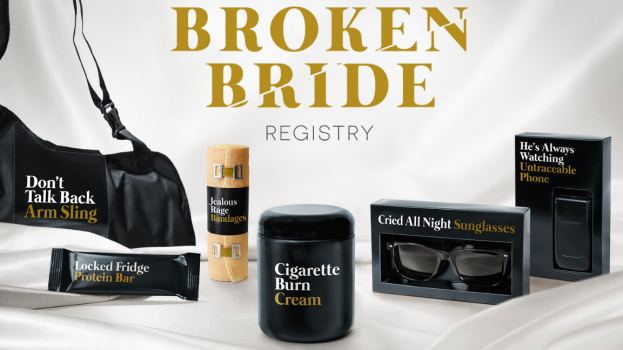 Across Canada, over 3,000 women and 2900 dependent children are living in emergency shelters to escape domestic abuse. Interval House was one of the first shelters to be founded in North America to these women together, and has found a common trend in the stories of its clients – a milestone event like marriage is where the abuse starts or escalates.
The organization's latest campaign, called the "Broken Bride Registry," highlighted marital abuse by setting up a booth at Canada's Bridal Show on Sep.6. The interactive set up had products with labels such as cigarette burn cream, "locked fridge" protein bars, "cried all night" sunglasses, "don't talk back" arm slings and a "he's always watching" untraceable phone. Each item had a barcode, which the bridal show attendees could scan to read the story of abuse behind the products. For example, the "don't talk back" arm sling directs the passersby to Riya's story about how her husband had attacked her with a glass ashtray during their vacation in Mexico. The cigarette burn cream takes one into Anna's life, when her arm was burnt by her husband with a cigarette for having gone out with a friend.
Interval House worked with Union for this campaign. "We were nervous during the three days at the Bridal Show about the negative reaction we would receive for talking about marital abuse in such a way during a happy occasion," says Rica Eckersley, CD at Union. "Although this booth acted as an emotional trigger for several to-be brides, the response to the campaign was positive."
Apart from reading the stories of abuse, which are representative of real life accounts from people who have stayed at Interval House, the bridal show attendees could add a donation the organization to their wedding registry or make a donation themselves.
"The goal of the campaign was to raise awareness about this one statistic we had at the bridal show and tell people that not every bride has a happily ever after," says Rachel Ramkaran, annual giving and communications advisor at Interval House. "What is different from the past campaigns is that we are able to now highlight how we are helping women rebuild their lives and the booth at the bridal registry is a tangible way of connecting back to the cause."
A video about the booth at the bridal show was released on Oct. 4 and the campaign will continue to live on social media channels until Nov 1.