Kids see thousands of social ads for unhealthy food every year: study
The report from Heart & Stroke comes as Bill S-228 awaits final approval.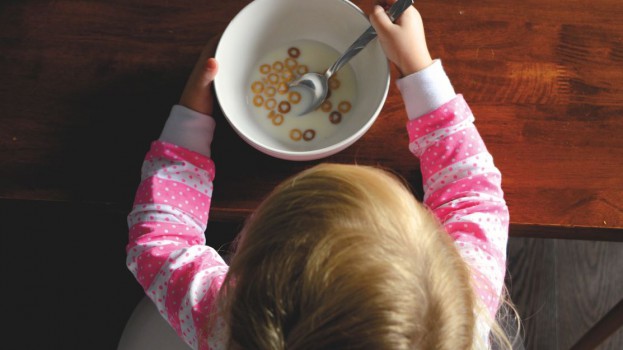 Three-quarters of Canadian children are exposed to food marketing on social media, with the majority of ads being for "ultra-processed foods and beverages high in fat, salt or sugar," according to new research commissioned by the Heart & Stroke Foundation.
The report was conducted by four researchers at the University of Ottawa's School of Epidemiology and Public Health, with funding from the Heart & Stroke Foundation, a charitable organization focused on education and research around heart disease and stroke.
A total of 101 children and adolescents aged 7 to 16 from various socio-economic communities in Ottawa were asked to use two of their favourite social media apps for two periods of five minutes while wearing eye-tracking glasses to record what they saw while using the apps.
According to its findings, kids and teens aged 7 to 16 are exposed to food and beverage marketing on average 111 times a week (totalling close to 6,000 times per year) when accessing Facebook, Instagram, Snapchat, Twitter and YouTube on their smartphones and tablets. While some of the apps require users to be at least 13 years old, the researchers found that children under 13 are using them and being exposed to the ads.
According to the study, the companies whose ads appeared most frequently were McDonald's (15%), followed by Starbucks (11%), PepsiCo (9%), Mars (5%), Coca-Cola (5%) and Restaurant Brands International, owner of Burger King, Tim Hortons and Popeyes (5%). The foods promoted most frequently were fast food (44%), sugar sweetened beverages (9%), candy and chocolates (7%), snacks (6%) and alcohol (5%), according to the paper.
These findings come despite the fact that McDonald's, Mars, PepsiCo and Coca-Cola are part of the Children's Food and Beverage Advertising Initiative, a group of 19 companies formed in 2007 that has voluntarily promised to self-regulate their marketing activities to children to varying degrees.
In a second study included in the report that used a similar methodology, kids were found to encounter around 145 ads per year on free gaming apps, over half of which were for ultra-processed foods and beverages high in fat, salt or sugar.
Heart & Stroke claims it is the first Canadian study to examine food and beverage marketing on social media, adding that "very little research" has been conducted with respect to digital advertising in the space.
The research lands as Bill S-228, which will ban the advertising of certain foods and drinks to children under the age of 13 in an effort to reduce obesity rates in Canada, was passed by government last month and awaits final approval by the Senate before receiving royal assent.
Health Canada is currently drafting regulations, expected to arrive this fall, that will lay out what constitutes "unhealthy food," set measures for determining if an ad is directed at children and set out exemptions to the bill, such as sponsorships for children's sports teams.
"This level of exposure may greatly influence children's perception of a normal diet as well as their food preferences and the foods they actually consume," said Monique Potvin Kent, an assistant professor at the University of Ottawa and one of the study's authors, in a press release shared by Heart & Stroke.
The organization has been a strong proponent for regulating the food marketing industry. It founded the Stop Marketing to Kids Coalition in collaboration with the Childhood Obesity Foundation, whose primary focus has been "supporting the development, approval and passage of Bill S-228," according to its website.
The Coalition has received the endorsement of more than 110 national and international organizations, as well as a few dozen health experts.
"Children deserve to be protected from unhealthy marketing and harmful industry tactics that negatively influence their food preferences," wrote Manuel Arango, director of policy, advocacy and engagement at Heart & Stroke, in an email to strategy. "The results of this new study reinforce the importance of including digital marketing in the regulations for Bill S-228 to protect children from unhealthy food and beverage marketing."
Ron Lund, president and CEO of the Association of Canadian Advertisers, did not respond to a request for comment by press time. But in previous interviews, Lund has laid out what the ACA sees as several problems with the nature of Bill S-228, including that it is likely to capture the "vast majority" of processed and restaurant foods, even those intended for adults.
An ACA economic impact analysis conducted before the definition of "children" in the bill was changed from 17 to 13 years old found that Bill S-228 could reduce advertising revenues by around $1-billion, reduce GDP by billions of dollars and have a significant impact on employment and wages in the industry. Corporate sponsorship revenues would also be reduced in the hundreds of millions of dollars.