Demac Media rebrands as Bounteous
Chicago's HS2 Solutions has acquired the Toronto ecommerce agency, which will be led by former ICF Olson president Mike Brown.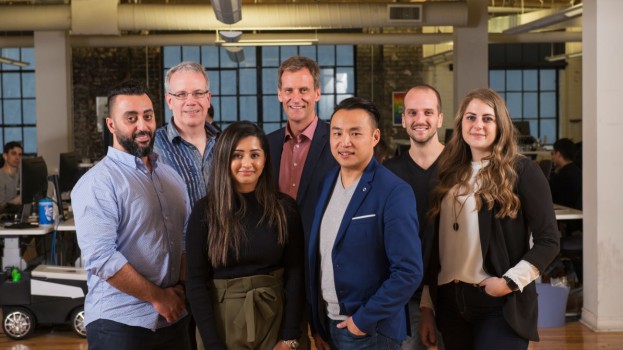 From left: VP of delivery Mike Samimi, VP of technology Jeff Elliott, VP talent and culture Sally Mansoor, president Mike Brown, VP of strategy and design Keefe Lee, VP of business operations Chris Bertulli, and VP of business development and client service Megan Curle.

Chicago digital agency HS2 Solutions has acquired Toronto's Demac Media in a move that accompanies the rebranding of both shops as Bounteous and Bounteous Canada, respectively.

The Bounteous brand unites the companies' Canadian and U.S. offerings in digital and ecommerce services. Locally, the company will operate as an ecommerce-first agency with digital and customer experience capabilities spanning marketing, design, strategy and analytics, says Mike Brown, the former chief growth officer for ICF Olson and president of its Canadian subsidiary, who steps in to lead the shop as president, replacing co-founder Matt Bertulli.

Bertulli, who launched Pela Case (an online retailer of biodegradable phone cases as an incubator project within Demac in January 2017), is leaving to focus on building that business from Kelowna, B.C. Meanwhile, Demac co-founder Dimitri Colomvakos is also stepping down from the company.

The acquisition adds breadth and scale to the agency's Canadian capabilities, while supporting work that was already being done in the U.S., says Brown, who helped negotiate the deal. Bounteous was looking to acquire a company that was "world class" in a particular area, such as ecommerce, and capable of quickly adding additional services, such as digital marketing and marketing automation, he says.

While Bounteous Canada already offers services across ecommerce and digital, "we're now positioned to deliver at a higher level because we have the strength of a 400-person company behind us," says Brown.

The Canadian agency consists of around 70 employees working out of Toronto, bringing the parent company's total headcount up to approximately 400 across additional offices in Chicago, Pittsburgh, San Francisco and Denver.

The shop's Canadian clients include Sleep Country, Staples Canada and the Government of Alberta. It will serve as AOR for Domino's Canada, thanks to a pre-existing relationship between Domino's and HS2 Solutions, which developed the restaurant's "pizza tracker" feature and ecommerce platform.

A big part of Bounteous Canada's offering stems from ecommerce platform partnerships, including Adobe's Magento, Shopify and Workarea. But it's the addition of digital capabilities and its medium-sized agency offering that will set the agency apart in Canada, believes Brown.

In the U.S., Bounteous was named the Adobe Emerging Partner of the Year for 2018. It is also an Acquia Preferred Partner and Premier Google Partner. Acquiring Demac Media, Magento's largest agency partner in Canada, will allow Bounteous to continue to "scale and add value for our clients," said the agency's co-founder and CEO Phil Hollyer in a statement.

The name Bounteous is meant to be indicative of being results-driven, while also hinting at "giving back" to the community, according to Brown.