Sun Life connects health with wealth
The financial services provider humanizes its approach to deliver an optimistic message around "true wealth."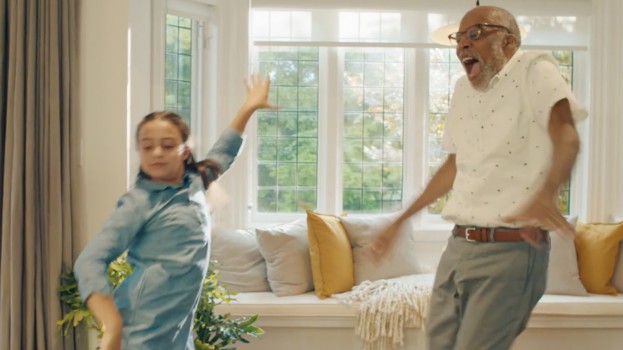 Sun Life Financial is taking a more humanizing approach to its advertising with the launch of a new campaign that brings health and wealth together under a single brand message.

Called "True Wealth," the campaign spot suggests true wealth is derived not only from financial prosperity and stability, but also from enjoying a long and healthy life. It features a man dancing  spontaneously with his granddaughter in the living room, reminding viewers that "This is Health. This is Wealth. This is Life."

The idea is that by "humanizing" itself, the insurance and financial services company becomes "more relevant and approachable in people's lives," says Cynthia Stark, VP of global digital and brand marketing. The goal is to not only express the financial side of the business, but also the new "extended purpose of Sun Life, which is helping people live a healthier life" and to better connect with people during "moments that matter." This year's campaign follows one from last year where the brand attempted to "modernize" its image and begin building its brand beyond its products and services.

The campaign creative was led by Havas, with Cossette Media serving as the Sun Life's new media agency for the first time following a summer RFP process.

The media strategy behind "True Wealth" was to be "channel agnostic" and to be visible at key moments during the day—an approach inspired by the overall theme of the campaign, which is about showing "a day in the life" of the brand's consumer target, says Stark. Assets are appearing on major broadcast channels (including in French on the Quebec show "Boomerang"), on digital across YouTube, Facebook and Instagram, and in print in The Globe and Mail. Ads are also appearing in cinema, at the gym, and during CBC podcasts, with the goal of engaging consumers multiple times throughout the day.

"Financial brands have such an important role to play in people's lives. Your dealing with people's money and health. We can't get more emotional and lifestyle-oriented than those two aspects," says Stark. "A very practical product approach is not really what people want to connect with anymore—people want solutions."

The campaign comes as the brand undertakes a global brand refresh aimed at modernizing the way it speaks to consumers, while maintaining its core attributes of being a "caring, optimistic and relevant" brand, says Stark. The global brand work will eventually include revisiting Sun Life's visual identity and tone of voice.