Walmart launches holiday campaign with new AOR
Cossette's first work with the retailer features a teddy bear that aims to build an emotional connection with families.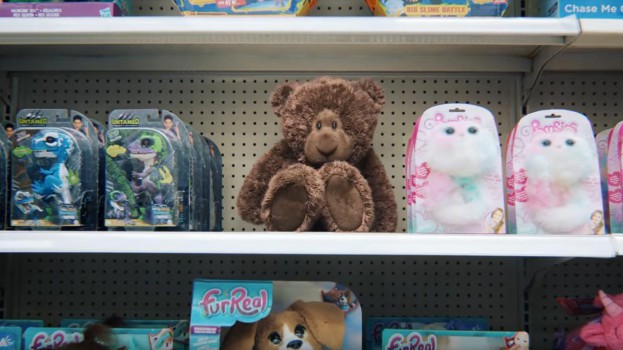 Walmart Canada has picked Cossette as its new agency of record, and the agency's first project as part of its new assignment has already launched: a 2018 holiday campaign, which joins the ranks of retailers using heartwarming creative to forge an emotional connection with shoppers.

Cossette was selected following a competitive review. The agency's mandate includes the full range of integrated creative, strategy and marketing responsibilities.

The new AOR selection ends the relationship between Walmart Canada and previous agency J. Walter Thompson Canada, which was named AOR in 2008.

Tammy Sadinsky, VP of marketing communications at Walmart Canada, says the main priority set for Cossette is to continue building on Walmart's stated mission of helping Canadians save money so they can live better. That's an idea that has been at the core of the retailer over the nearly 25 years it has been in the Canadian market, but the retailer has recently been building on the idea of living better in a more emotional way, as exemplified in this year's holiday campaign.

The hero spot in the new campaign follows a teddy bear who is left on the shelf at closing time, after many of its fellow toys have already been taken home. It spends the night exploring the toy section, with stops to check out Walmart's selection of books, tech and grocery products. It finds its way back to the re-stocked shelf in time for the store to open, where it is found by a dad and taken home, given as a gift to young girl.

"Not only was the main character in the film creating that magic for his family, but it was really bringing it to life in an emotional way that touches people," says Carlos Moreno, global chief creative officer at Cossette. "We've been talking with Tammy about the idea that people like Walmart, but how do we get them to the level where they love the brand. For this, we're tapping into that emotional feeling people already have for the holidays, and finding out how we blow that up and keep that emotion coming."

Sadinsky says the response to the spot, which debuted last week on TV and online, has been overwhelmingly positive. The spot has already gotten more than 100,000 views since it was posted on Nov. 8 on YouTube with one commenter writing: "I actually cried the first time I saw it on TV, very well done Walmart". 

Along with Cossette, Walmart worked with Reprise for media buying on social and Mindshare for buying on other platforms, Church + State on social media, Medianet on digital, St. Joseph Communications on in-store signage and flyers and Apex on PR and influencer content.

"Our customer wants their family's holiday to be magical and memorable, but don't have unlimited time, money or energy to make it happen," Sadinsky says of the insight behind the campaign. "Walmart, naturally, can play an important role with low prices, a big assortment and convenience in-store and online. We really help the customer create the holiday they want for their family, and this spot delivers on the insight for the overarching campaign, which is that you could really use a hand when trying to create holiday magic."

A brand campaign for Walmart that ran over the summer – and created by Cossette's fellow Vision7 agency Camp Jefferson on a project basis – used a trio of different videos in efforts to forge more of an emotional connection with parents, bringing more of the focus to the "live better" side of its mission and complement the low prices it is already known for.

"It's an insight that's more crystalized now than in the past," Sadinsky says of families feeling like they need a hand, whether it is in "saving money to live better" or creating a magical holiday season. "That was dramatized in the work over the summer in a very modern and relatable way. I think we've taken that same approach, but we've tailored it to the holidays and made it relevant to connecting with what's important to them this time of year."

Part of the holiday campaign also includes the return of the Toy Academy. The online content hub is meant to be a guide for holiday toy buying by tracking trends and reviews, all handled by "toy experts." One of those young experts, Olivia, returns to creative to promote the program. Sadinsky says the main way the program has evolved is building stronger awareness for it by pushing out content on digital channels, with the target goes beyond parents to include anyone who might have to buy toys this year, such as aunts and uncles.