Curling Canada reaches out to enthusiastic, novice fans
The organization's first work with new AOR Cossette looks to make people feel okay about not knowing the sport's rules.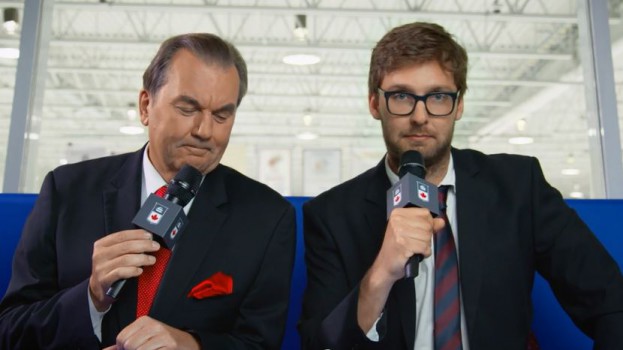 Curling is a sport many Canadians find enjoyable to watch, even when they know little to nothing about the rules.

Cossette's first work for Curling Canada since being named creative AOR in September, led out of the agency's Vancouver office, reiterates that point with the goal of expanding the sport's fan base. The campaign, called "You don't need to know it to love it," features curling stars Jennifer Jones and Brad Gushue, well-known TSN sportscaster Vic Rauter and a guy named Doug.

The campaign spot is framed as a TV broadcast of a curling match at the Scotties Tournament of Hearts, co-announced by Rauter and the ever-enthusiastic Doug. Rauter's experience makes Doug's cluelessness about the rules and terminology all the more apparent. For instance, he refers to the curling championship as a "slidey competition," confuses the act of sweeping with "scrubbing," and notes how "everyone's yelling stuff!" At every turn, a straight-faced Rauter politely corrects him.

The lighthearted approach is meant to engage with existing fans and younger audiences (who may resemble Doug more than Rauter) and help drive ticket sales for Canada's five premier curling events.

In an agency press release, Curling Canada CEO Katherine Henderson notes that core fans can relate to Rauter, while Doug's play-by-play is authentic to a new fan experience; "it demonstrates that everyone is welcome."

To help drive ticket sales, the spot is running online and on TSN until the end of February. The idea is to target existing fans early and newer fans closer to start of the tournaments.

Curling Canada is the national governing body responsible for the development, promotion and organization of all levels of curling across Canada. It oversees 12 national curling championship events every year, as well as the Home Hardware Canada Cup of Curling, the World Financial Group Continental Cup of Curling and the World Curling Championships.