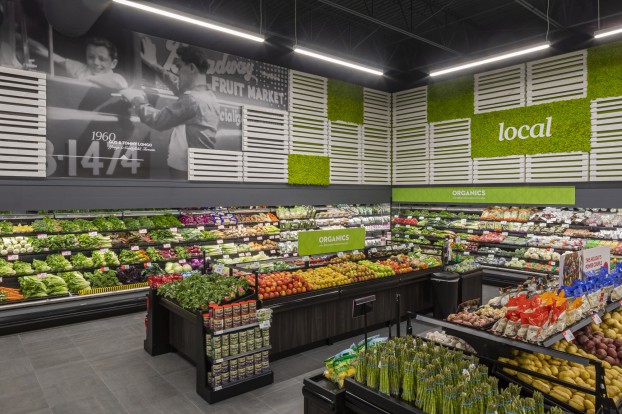 Longo's has opened a new retail concept for its suburban grocery stores, one the company says better serves modern shoppers and reflects its commitment to sustainability.
The 40,000 sq. ft. store opened in Stouffville, Ont. on Nov. 1. Designed by Ampersand Studio, a branding and design agency in Toronto, the concept is intended to meet the needs of a time-starved shopper base that visits more frequently and increasingly seeks out ready-to-serve options.
"People used to do that one weekly shopping trip, but that's often not the case anymore," says Glen Kerr, partner, creative at Ampersand. Shorter, more frequent trips have become the trend as shoppers seek fresher ingredients throughout the week.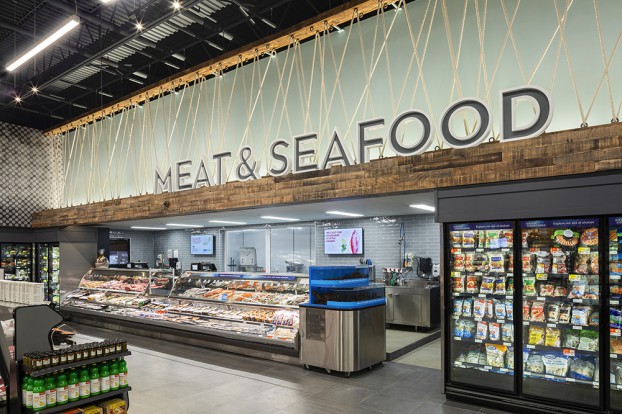 "Customers will often complain that grocery stores are too big," Kerr says, adding that they don't have time to search the aisles. "Optically, we wanted to change that perception. We wanted to create a sense of choice but not make people feel like we're pulling them around the entire store."
Differing from the classic design of filling floor space with long aisles, the Stouffville Longo's runs a central aisle across its numbered rows, bisecting each one to create the impression of shorter aisles that don't take as much time to browse. "People are more likely to opt to walk down a shorter aisle, driving discovery," Kerr says.
A "healthier for you" section has been added next to the produce section to more prominently merchandize products an increasing numbers of shoppers are seeking out. Quick-prep and ready-to-eat products are also more prominently displayed to serve rushed shoppers, and a bulk food section has also been added.
The first thing visitors see when they enter, however, is an expanded kitchen and food service station. The eat-in dining space has also been revamped to be more comfortable and physically separated from the shopping space.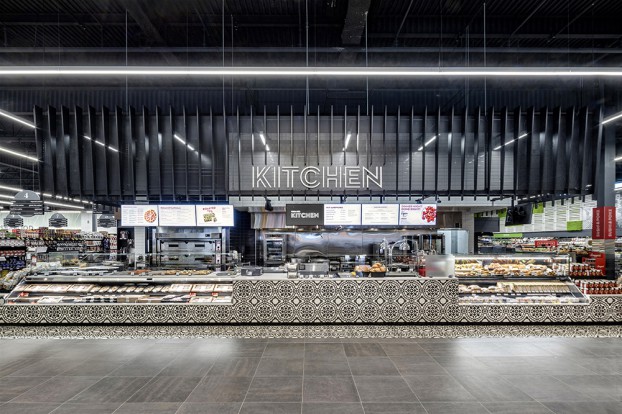 "I've seen a real blurring of food spending lines over the last five to seven years," Kerr says. "Going out to eat used to be a treat, but now parents will make breakfast for their kids at home and stop at a drive-through once they're on the road. QSRs, full restaurants and grocery stores are all competing for that new dollar spend."
The Stouffville location is also designed to have a far smaller footprint on the environment. It aims to produce 65% of the energy it uses itself and reduce 1,500 to 2,000 metric tons of greenhouse gases annually.
This sustainability mandate is reflected in the store's interior design as well. The produce section is ringed with patches of sustainably harvested moss. Ampersand also used a motif of crates in that section to evoke a sense of farm-to-table.
Ampersand also used a number of more environmentally friendly materials in construction, such as flooring made largely from recycled materials and paints with "zero VOC" (volatile organic compound). Kerr said such materials are becoming cheaper and easier to source now that more businesses are seeking out green options.
Longo's has been an Ampersand client for more than a decade. Ampersand previously oversaw the launch of the Market by Longo's store format, handling both the branding and retail design of the urban market format.