Belgian Moon gets experiential in a shipping container
The Molson Coors brand will set up a mobile brewery in a unique cultural hub in Toronto.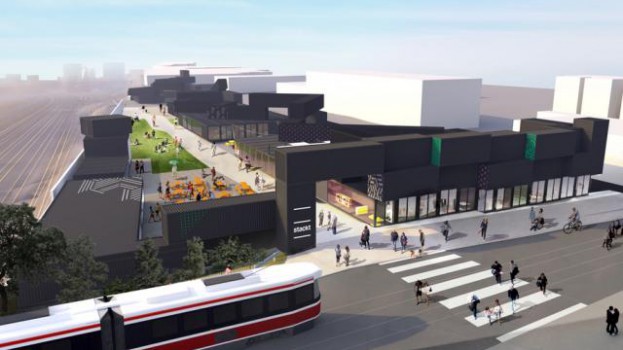 An artist rendering of what Stackt will look like when it opens in Toronto this spring.
Molson Coors is using a one-of-a-kind mobile brewery housed inside shipping containers to promote its Belgian Moon brand.
Belgian Moon is partnering with Stackt, a cultural organization that is building a community on unused land in Toronto using shipping containers. Stackt will deliver an immersive programming and events calendar to the city's waterfront, not far from Billy Bishop Airport, when it opens in Spring 2019. The land, temporarily leased from the city, will include galleries, studio space, restaurants, bars, farmers' markets and, thanks to Belgian Moon, a brewery.
Belgian Moon's moveable brewery will consist of three 40-foot shipping containers that can be assembled on the site and elsewhere (though Molson Coors has no plans as of yet when it comes to moving beyond this temporary home). The brewery is going to brew small batch seasonal beer recipes like Mango Wheat and Lemongrass Pilsner that will be paired with other curated food offerings on site.
"Beer consumers' palettes are expanding with the explosion of craft brewing, which is a great thing for us," says Bill York, commercial director for Belgian Moon.
The inspiration for the mobile brewery came out of the Stackt concept itself, and transforming land into a community and cultural hub, York says. Being associated with an arts and culture space  is a great way to "deepen our consumers' experience and attachment to the brand," York says.
York said marketing of Belgian Moon has changed since launching in Canada in 2016 to "drive a deeper meaning and connection." He says an important part of building a presence for the brand is to be in in a unique place where consumers can come and experience Belgian Moon as "people like to have a place to access the brewers and talk to them" and understand the brand's take on how food intersects with beer.
Measurement for success will come via getting as many people as possible to try fresh new beers created on site, York says. "It's not a play on media, it's about a consumer experience."