Saxx comes out of left field
The brand's "Ballpark" campaign utilizes reviews of what makes its underwear unique to stand out from the pack.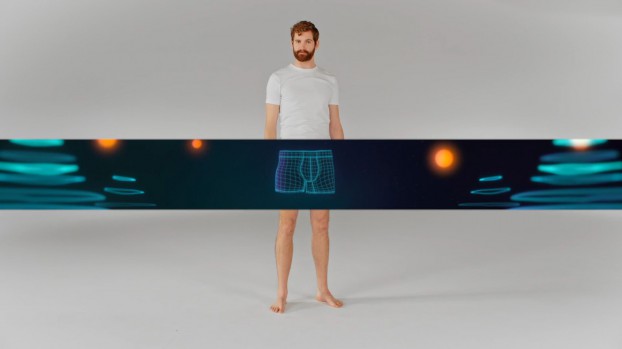 A campaign with balls? That's not far off when it comes to "Ballpark" from underwear maker Saxx, which draws attention to drawers – specifically, a proprietary "ballpark pouch" to show what makes the young brand stand out from the field.
In the campaign, which launched March 12 and was led by Vancouver-based creative studio Kiddo, the pitchman highlights underwear reviews, both real ("life-changing and revolutionary") and imagined ("underwear from the future"), and stresses Saxx's advances in product design. The pitchman strips down completely to explain the technology behind breathable mesh panels, obscured by a futuristic display and shows off the product's comfort and versatility while doing jumping jacks and karate, all while wearing VR goggles.
Adam Greene, marketing director at Saxx Underwear, tells strategy one of the goals of the campaign is to increase recognition of the signature pouch design and connect it to the Saxx brand. In terms of target audience, Greene says it has an archetypical consumer in mind who is 35 years old.
He says that while cheeky humor is important for the demo and the category, "social proof and validation are just as important when it came to the strategic direction." This is especially true with respect to accolades from third party media, as showcased in the spot – as a way to target consumers across demographics.
Saxx has received kudos from publications like Runner's World, Men's Health and Men's Journal so Greene says "If we can integrate those into our messaging in a way that feels authentic, we try and do that."
Greene says that in the past, underwear advertising executions (both from Saxx and its competitors) featured "guys in their underwear, brushing their teeth, in the bathroom." He says the new campaign required a rethink, especially with active wear apparel technology progressing as it has. "We wanted to infuse 'Ballpark' with some of the current VR technology," to emphasize not only the fun aspect of the product but also its technological advances.
"We went in with the objective to produce a 90-second video, and to be able to pull still imagery from it," Greene says. The content is designed to be "future proof," and they are intending this to be the company's campaign from 2019 and beyond. The brand is looking at 40 different cuts of the video for use on social platforms.