Violife throws down the dairy-free gauntlet
From Shopper Marketing Report: A big in-store push is daring people to switch to vegan cheese during the holidays.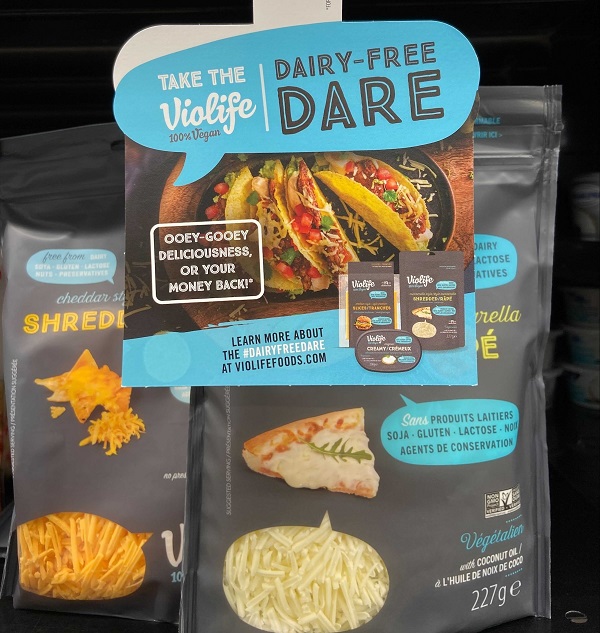 Violife is daring Canadians to swap out dairy cheese for its vegan products.
The Upfield brand's "Dairy-Free Dare" is a money back guarantee offered up until the end of February 2022, and launches to coincide with the holiday entertaining season with prominent shopper marketing, cheesy dairy free recipes, in-store promotions, and also select on premise menu creations. 
To drive trial, Violife is bring a wide swath of shopper materials to conventional grocers like Loblaw and Walmart, as well as health food stores like Ambrosia, with on pack stickers, wobblers, shelf blades and decals.
"More and more people are shopping in-store and that discoverability moment is coming back," says Shoshana Price, head of marketing for Upfield Canada, who adds that shopper is a "critical" component when it comes to attracting a plant-curious audience.
The competitive set, she says, includes conventional dairy but also other vegan cheese brands, especially as the latter is a segment that's proliferating, which means more options for consumers.
On the packaging side, she says to stand out in a sea of white, Violife has grey slate and blue packaging that really grabs eyeballs.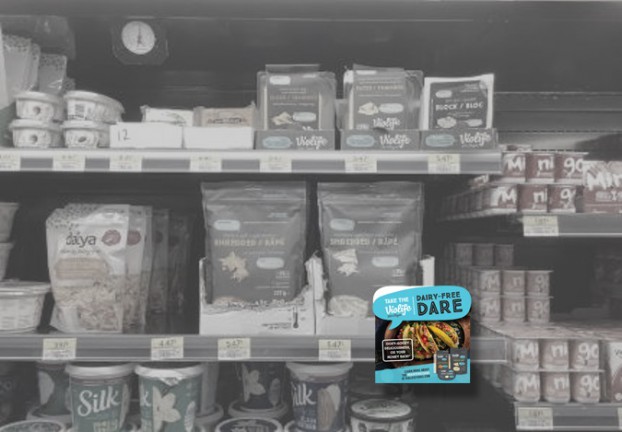 "We tend to find ourselves in a few places [in store]… and we like to be alongside dairy cheese because we want people to know there are amazing plant-based options," Price says. It's also appearing in natural foods and deli sections too, part of its increasing discoverability.
Agency partner Mixtape helped the brand come up with its "dare" positioning, informed by insights that 80% of Canadians are curious about trying plant-based options, even for what Price calls "the last frontier" of cheese, a category people are more often than not reluctant to give up, compared to meat.
With people eating and snacking more at home thanks to COVID and more aware of what's going into their bodies, there's been a heightened interest in health that's helped the relatively new brand.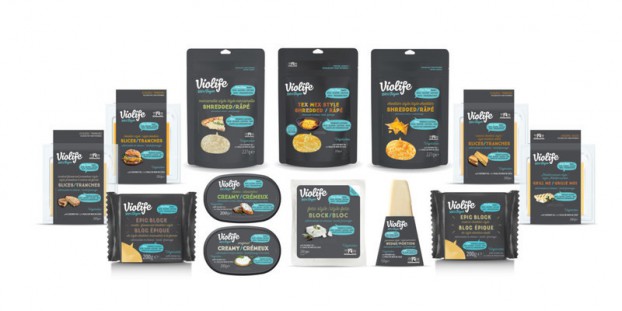 "We just launched a number of products that are charcuterie board-worthy for any festive gathering," Price says, and that it's launched a line that includes epic blocks to go along with parmesan and feta.
Chef Matty Matheson has come on board for Violife's Dairy-Free Dare to inspire Canadians to join the dairy free "dare" challenge. Through a video release via social media, Matheson is engaging followers with gregarious style to try Violife, including as part of a vegan baked feta pasta. There will be cutdowns of videos for social. There are also videos showcasing the product in scalloped potatoes and fondue.
Chef Matty is perfect positional fit, Price says, as he both loves meat and cheese, but is known for his brash and daring persona.
Longtime partner In Marketing handled the shopper marketing elements, while Best PR is assisting with public relations.