How Enjoy Life is marketing allergy friendly food
The brand is adding cookies and baking chocolate to its product lineup in Canada, and making itself more accessible.
Enjoy Life is launching new cookie and baking chocolate SKUs to further tap into a sizeable demographic of Canadians looking for allergy-safe snacks and baking.
Enjoy Life boasts that it is free from 14 allergens, and depending on the product – chocolate, snack bars, chips and brownie bites – is distributed across the likes of Walmart, Metro, Loblaw and Sobeys banners.
New products in Canada include include a crunchy birthday cake cookie and a sunseed butter chocolate chip cookie, a safe alternative to popular peanut butter and chocolate cookies. It is also bringing chocolate chips made with ricemilk morsels to Healthy Planet and independent stores, and white baking mini chips to Whole Foods and Walmart in the coming weeks.
Barb Pritikin, marketing manager for Enjoy Life Foods, tells strategy that for the U.S. brand, Canada is an important, sizeable business: three million people self-report at least one food allergy, and there are half a million children under 18 with food allergies.
Here, it is going to support the brand as best it can, through packaging and product innovations and PR, primarily.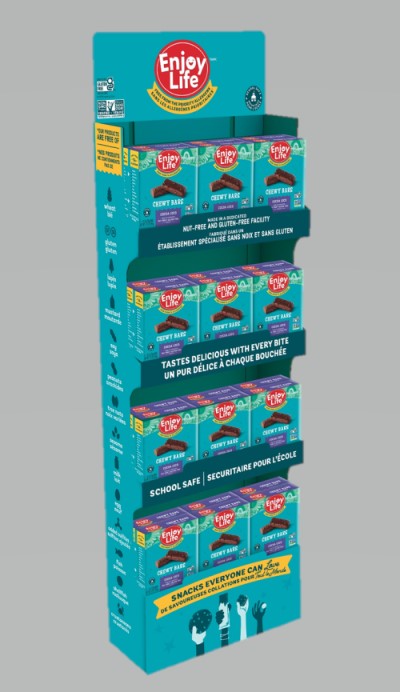 At point of sale, Enjoy Life is driving trial with bilingual display shippers.
"We find that those [shopper marketing assets] are very pricey executions, and I've done them in my the past when I've worked with more mainstream brands with hefty budgets," Pritikin says, but during her 18 month tenure, it's been more about connecting with consumers along the whole spectrum of the shopping journey.
"Our entire line was refreshed last year," Pritikin says, telling strategy that its logo was made warmer and more contemporary. The "o" in its logo, for example, was made larger, and includes a smiley face, and that it comes to life in a more animated, fun and inclusive way.
For organizations like Food Allergy Canada and its counterparts, teal is the colour associated with food allergies, and Enjoy Life's hue is a purposeful nod to the community.
On pack, "free from" things like nuts and gluten are prominent, and also that products are manufactured in nut free gluten free facilities.
"Many times our product is in the gluten free set," Pritikin says, but for its best sellers like baking chocolate, it is often found in mainstream aisles.
In 2019, the brand also launched breakfast Ovals to compete in that set, individually wrapped snacks, five per box, which it says are not overly sweet like those of the competition.
And according to the brand, the back to school time frame is an excellent time to remind consumers through social that these are also are a great school-safe snack, perfect for before, during and after class.
"School safe" is a very important of Enjoy Life's messaging across the shopper journey.
Pritikin, who started working with the brand mid-pandemic, admits food allergies can be confusing. And previously, when she worked on large CPG brand accounts such as Ragu or Kraft Heinz sauces and condiments, marketing considerations were not a matter of life and death, like it can be for Enjoy Life's constituency.
In addition to the safety messages, the brand emphasizes "sense of belonging" to appeal to its core, conveying to parents that kids can feel good that snacks are made just for them.
This messaging is a bit more customized and personalized this year.
Enjoy Life is activating in a different way this time around, operating in a back to school environment where COVID safety is also top of mind. For the launch, it is using a PR and influencer push with support from LC3 Communications in Canada.