"It's terrifying": As ACTRA and ICA dispute continues, actors feel the pinch
With union gigs drying up and savings dwindling, some performers still worry about a "race to the bottom" for commercial work.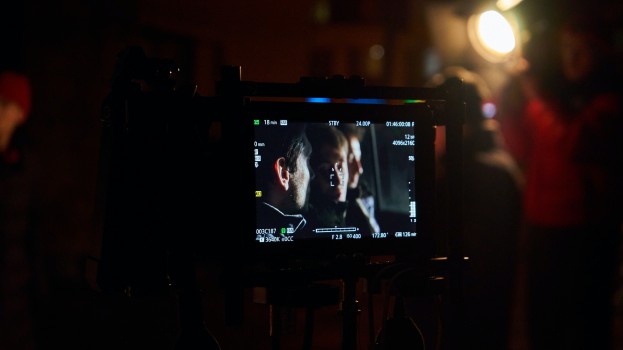 By H.G. Watson
Normally, Cory Doran would be auditioning six or seven times a week. About 20% to 30% of the actor's work was in commercials. Voice-overs and on-camera work paid tens of thousands of dollars. It was enough to support him and his family.
But since spring, those auditions have dwindled. A significant portion of his income has dried up. "It's an enormous difference," says Doran.
Since the spring, ACTRA – the union representing over 28,000 of Canada's English-language actors – has alleged that the Institute of Canadian Agencies (ICA) has effectively locked out its members because it will not sign a new National Commercial Agreement (NCA). And it's put many working actors in an immensely precarious position.
According to ACTRA, between 2017 and 2021, approximately 8,000 of its members worked under the National Commercial Agreement.
Blake – whose name has been changed to protect them from damage to their career – has been a working actor for over 10 year and makes almost all of their income from commercial gigs.
"I've been hit extremely hard," they say. While they still are able to audition a little with a few of the agencies that have signed on to the NCA, it's not enough to make up for all the work that would have come from the agencies that are still holding out. "I have no idea what I'm going to do to make a living, because it's just gone overnight."
While some agencies have signed on to the new NCA, the ICA's membership includes some of the country's biggest ad agencies, such as BBDO, Cossette, FCB, John St., Leo Burnett, McCann, Ogilvy, Publicis, Sid Lee and Taxi. Their clients include some of the country's most active advertisers: McDonald's, Unilever, TD Bank, BMO, PepsiCo, OLG, Rogers, Telus, Canadian Tire, Sobeys and Loblaw.
At issue in the dispute is Article 3005 of the NCA. Added in 2007, it allows non-signatories to engage ACTRA talent by using a third party payroll company to be a Canadian signatory acting on their behalf. At the time, this was done to allow foreign companies to produce commercial work in Canada with ACTRA performers, but has since been used as a loophole of sorts, allowing non-signatory agencies to use ACTRA talent under the terms of the NCA when and if they pleased. The ICA has said it wants to "level the playing field" by including an opt-out clause so signatory agencies have the same ability, while ACTRA has said this is an obvious reduction in its bargaining rights.
Jamie — an actor whose identity is also being protected – estimates they do about 30% commercial work, which allows them to pursue passion projects the rest of the time. They feel that perhaps it is time to close that loophole. "I wonder if there is, or there needs to be, space for a larger conversation about why that happened and how we can kind of rectify that."
Most performers already struggled to survive through the pandemic as many productions took extended breaks. Even as it ramped up again, actors were required to shoot self-tapes from home, sometimes having to do complicated setups while navigating around spouses, kids and pets. "Not everyone lives in a mansion," says Doran. "They can't pull all this stuff off."
The minimum daily rate for a principal actor represented by the union is $851 per session, or $108 an hour. The agreement also sets out what the minimums are for residuals: the amount paid to actors every time the usage is extended in time, or to another region. For experienced actors who can negotiate higher fees, these can end up making thousands for a single TV spot over years – something that helps keep them afloat during lean times.
Jamie says the lack of auditions is particularly felt now, when most agencies would be offering roles in holiday spots. "It's brutal," they say.
Actors in ACTRA can only audition for union roles – much like NCA signatories are required to prioritize hiring ACTRA talent, members are cut out from non-union opportunities. Both Doran and Blake say they've seen ads for non-union auditions for large brands that typically would have fallen under the NCA. While the pay is good for those roles, they worry that this is an artificial inflation of salary meant to draw people into applying for jobs, while also not guaranteeing they will get paid usage rates.
"At some point that tide is going to turn, and it will be a race to the bottom because there will be no collective-bargained agreement on what basic minimums are," says Blake.
As well, it's frustrating for many actors to see their work devalued. Not using ACTRA talent means not using Second City performers, experienced theatre actors and voice talent many people would recognize from their favourite cartoons.
"A good business practice would come back to the model that has been so successful for so long," says Doran. Blake notes they have appeared in advertisements that have run for years – and advertisers would not use those ads if they weren't working.
In a statement provided to Strategy, Scott Knox, president and CEO of the ICA, says ACTRA is the one disrupting opportunities for actors to work, and that the union has not provided any new proposals to modernize the NCA. "We are no closer to a resolution now than we were on April 25, 2022," he added.
Eleanor Noble, the national president of ACTRA, hopes that the union and ICA can get back to the table soon to modernise and simplify the NCA. In its communications and protests since the dispute began, ACTRA has said it wants the ICA and its agencies back at the table for a negotiation process to modernize the NCA, but an opt-out clause is a non-starter because of how it would limit the union's bargaining rights.
That also resulted in a formal complaint to the Ontario Labour Relations Board, claiming the ICA's insistence on an opt-out clause to the point of causing an impasse amounted to bad-faith bargaining (mediation sessions in July and September failed to resolve the dispute, and an OLRB hearing is scheduled for this month).
But for Blake, time is beginning to run out. "I'm leaning into the last little bit of money I have saved," they say. "It's terrifying."