Well Juicery toasts mental health at shelf
The beverage maker used a bottle collar instead of a cheaper shelf talker to drive awareness about the issue.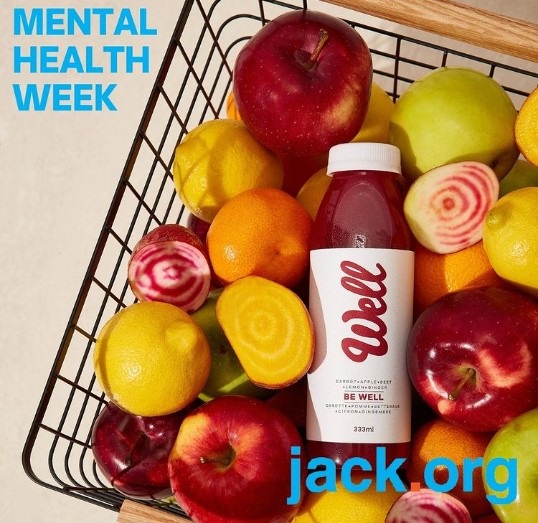 Well Juicery urged buyers to "drink to mental wellness" in a Loblaw-exclusive program coinciding with Mental Health Day.
The better-for-you cold pressed juice brand donated 100% of the proceeds from any purchase of its 333ml juices to Canadian youth mental health organization Jack.org from Oct. 9 to 14, a recognition of the fact that suicide is still the leading health-related cause of death for youngsters.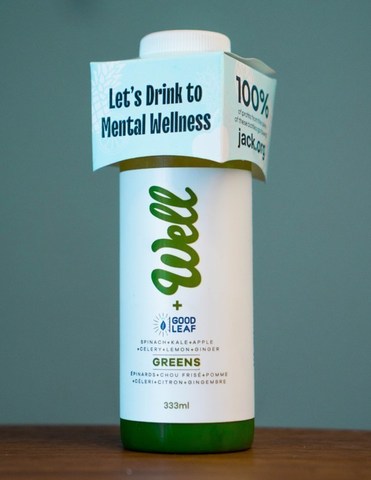 "The last few years have been difficult for everyone, particularly for our youth, and we want to support organizations like Jack.org  to ensure our young people have strong support systems in place for when they need them," says Well co-founder Jeff Tumbach.
Each drink featured a bottle collar with the phrase "let's drink to wellness," a packaging innovation that was done in house.
"We wanted something the shopper takes home with them," Tumbach says. "This marketing piece was more costly than conventional shelf talkers, but in the end we are happy that the message goes home with our customers and has another chance to impact them."
Well first partnered with Jack.org in 2021, recognizing the strong link to wellness between their two brands.
"We were planning the launch with Loblaw carrying our juices, and wanted to do something special to commemorate the partnership, and this was a great way to accomplish that," Tumbach says.
According to Tumbach, the brand has been fortunate enough to actually grow in popularity throughout COVID, with health being top of mind.
Consumers are becoming more and more knowledgeable about food and beverage options around them, and he says that's where Well comes in, adding that it has always stayed true to its guiding principles of delivering nutritious, clean and fresh beverages.
Last December, the beverage brand announced a partnership with Starbucks, and Tumbach says it has worked well, as many people that have never heard of Well Juicery have now trialed its juices through this alliance.
"After eight years of business, it was a big moment to show us how far we have come," Tumbach says, adding that it is working on showcasing more SKUs at the QSR in the near future to give potential customers access to a wider range of its products.