Why Laker Lager is doing a meat stick promo
From Shopper Marketing Report: Working with Piller's gives both brands exposure in different channels.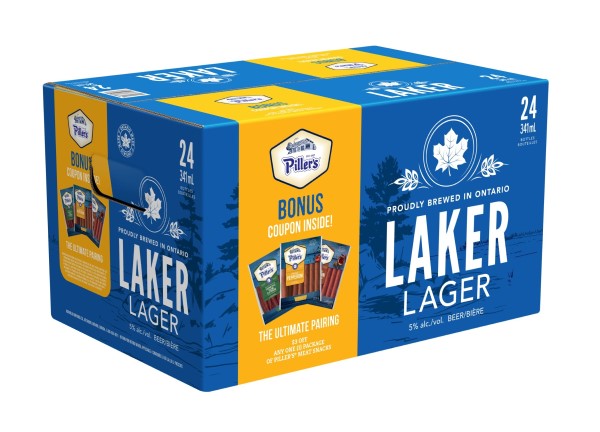 Waterloo Brewing is seeing two different POS promotions – meat sticks and winter apparel – pay dividends for two different brands.
For the brewer's Laker Lager line, it is giving out a $3 off coupon on specially marked 24 bottle packs for a package of Piller's Meat Snacks at The Beer Store locations across Ontario, as well as the Waterloo Brewing Beer Store.
Fellow Waterloo-based brand Piller's is one of North America's largest producers of European sausages and deli meats, known for products such as Black Forest ham, air-dried salamis and meat snacks.
"Point of sale continues to be a key driver," explains Kim Mannerow, director of marketing at Waterloo Brewing. She tells strategy that generating shelf space attention is number one, but that it also does some paid social and social media.
But even though the promotion is being distributed through more traditional beer channels, Mannerow says the brand equity transfer also gives Waterloo presence in Piller's primary channel: grocery, where the customer skews more towards women. And it works both ways: a previous promo for Piller's sausage several years ago, which is what convinced the brands to do another team-up, presented Piller's to a beer space that is more male-dominated, helping it more than double its typical promo redemption.
"We have proven success working together," Mannerow maintains, adding that barbecue and meat snacks is a natural taste pairing with a lager.
On pack, the offer itself is prominent with "bonus" in a darker colour against that yellow background. Piller's is called out too, as it's quite a recognized name in deli meats, especially to people in Waterloo's home market. Marks, part of SGS, is the brand design agency that did the packaging.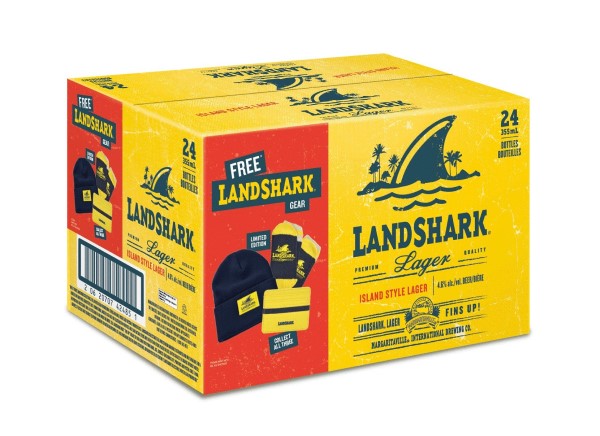 Meanwhile, Landshark Lager's popular winter giveaway is also returning. This October, specially marked 24-bottle packs of the Waterloo brand will include one of three branded winter items: toques, gloves and wool socks.
This is the fourth year it's been doing in-case offers for the five-year-old Landshark brand, Mannerow says.
"We try to create things within the Landshark family, that are wearable," she says, so it's more than just putting a logo on a shirt. The playful brand, which is named after a creature that doesn't exist, she says, lends itself to fun promotions like this. To broaden the appeal, given LandShark is known for its striking yellow branding, Waterloo is reversing the colour scheme and opting for black to predominate.