View from the C-Suite: Crystal Head Vodka leverages its design
The spirits company knows it's what's on the outside that matters.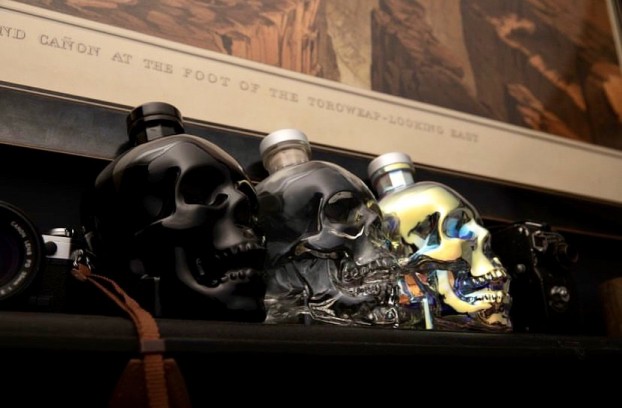 At once eye-catching and striking, the iconic bottle shape of Crystal Head Vodka sets the brand apart. But that's not all it has going for it.
In 2008, when Canadian legend Dan Aykroyd was unsatisfied with the lack of additive-free vodkas on the market, he aimed to create one himself. Partnering with artist John Alexander, the pair created a one-of-a-kind aesthetic for their spirit that's quadruple-distilled and filtered seven times over, and is free of additives and gluten.
Manufactured by Globefill Inc. in Newfoundland and Labrador, the brand now produces three variations: Original, it's traditional recipe; Aurora, a process by which the product is filtered through layers of diamonds; and its newest offering, Onyx, which features premium agave.
Recognizing the natural marketing strength of its skull bottle, Crystal Head has leaned into boosting strategies that feature it in new ways. Whether through its limited-edition, hand-applied and numbered art bottles by Alexander, rainbow-inspired bottles in celebration of Pride, or the guerrilla marketing that's seen consumers decorate their own bottles and share them on social media, one thing's for sure: Crystal Head's bottles have an inherent "cool factor" that nudge consumers to tell their friends about it.
With an upcoming redesign of Crystal Head's Pride bottle on the horizon, we caught up with Jonathan Hemi, managing partner, to learn more about how the bottles are being upcycled and shared, what the motivation behind the brand's newest SKU was, and what other methods of marketing Crystal Head relies on.
Your most recent variation, Onyx – the first commercially available agave-based vodka on the market – was introduced to the line-up in late 2020. What market research went into developing it, and how has it been received in comparison to other SKUs?
The vodka category allows us to be innovative, and there is so much room to experiment. We are bridging the gap between vodka and tequila by introducing consumers to something entirely new to create with.
There is a growing trend for agave-based spirits but also ultra-premium liquor. Consumers are conscious of what they put in their bodies, and Crystal Head has always been a zero-additive vodka. Onyx has been well received and has grown rapidly despite launching during a pandemic.
Can you speak to the new "Paint Your Pride" bottles? Why did the brand feel 2023 was the right time to retire the original Pride bottles and introduce a new concept?
The original Pride bottle was intended to be a limited-edition design. Our consumers expect innovations from us. After three successful years of the "Rainbow" bottle, 2023 was the right time for a refresh. Including the colours black, brown, white, pink and light blue in the "Paint Your Pride" bottle was essential because inclusion and representation are pillars of Crystal Head Vodka. The concept of "Paint Your Pride" is very authentic to us. It is an excellent combination of creativity but also self-expression.
Consumers often keep finished bottles and post them on social media. How have you been able to leverage this method of marketing?
Our skull bottle is iconic, a piece of art people don't want to throw out, so they repurpose it. We have seen some incredibly talented upcycle projects, from lighting fixtures to paintings and candle holders. It's always impressive to see. Social media has been an excellent tool for sharing inspiration and ideas. It has helped us connect with people and build a community. We often encourage our fans to send us images of what they create from our bottles and run social media contests where people can share their work. Crystal Head Vodka was made by creatives, for creatives. The artistic community has embraced us, and we support them by partnering with local painters, musicians, makeup artists and fashion designers.
Who is Crystal Head's target demographic, and what marketing methods have you found to be most beneficial in reaching them? 
The Crystal Head consumer is someone who embodies the creative spirit. It can be musicians, architects, mixologists, IT, graphic designers, and so much more – it's people who appreciate the design of the bottle but also the quality of the liquid. We are very community-focused in our marketing approach; social media is a great way to connect with people and through local activations. We don't just sponsor events; we attend them. We work with local charities, artists and businesses to reach our demographic. Our in-house marketing team does a fantastic job maintaining our global brand image, creating marketing materials, brand messaging and more. We work with PR agencies locally for additional support.