Klick appoints new leaders to aid global expansion
The health and life sciences shop has named its senior team to guide EMEA and LATAM.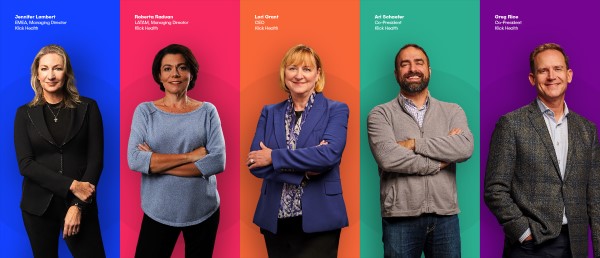 To launch its global expansion, independent health services agency Klick Health has appointed several senior-level global leaders to build out its regional hubs in Asia-Pacific (APAC); Europe, the Middle East and Africa (EMEA); and Latin America (LATAM).
Among the appointments are Jennifer Lambert, managing director for EMEA and Roberta Raduan, managing director for LATAM. Lambert has spent the past decade working with WPP as chief health officer at Wunderman Thompson Health International. Raduan, meanwhile, is based in Sao Paulo and most recently served as managing director of Havas CX Brasil. The two will help lead the agency as it fully installs its "reimagined, built from the ground up global model," says Lori Grant, CEO of Klick.
"We have reimagined the model of a global agency, and of what it means to bring end-to-end services to our clients globally," she adds. "What it means for talent is the opportunity to work among the best and the brightest, collaboratively solving problems for life sciences companies around the world."
The agency announced its global expansion at Cannes earlier this year, and says that its model will be "something new, not just for Klick, but also globally," notes Ari Schaefer, co-president at the agency, and "it's grounded in some really big differentiators." Among those is the fact it is integrated from inception, but also that it is exclusively focused on the health and life sciences sectors.
"Other global footprints that are integrated are sort of stitched together. They're siloed organizations that work together," he tells strategy. "What we're building is fully integrated, and that ultimately will create a tremendous amount of value and efficiency for our global clients, who are trying to be more agile."
"It's clear that the model that existed was not serving global clients," adds Raduan. "This is a model that, I think, only a company that has the largest med science background and is super focused on the health and life sciences industry, is in a comfortable position to chase. We're finding talent everywhere, looking for the best people to solve the hardest problems our clients might have, and bringing them together."
Klick also says it has one of the deepest rosters of talent dedicated to the health and life sciences sectors in the world, a powerful differentiator for the agency, Schaefer says.
"In other models, there often ends up being an adjustment. Digital transformation, for example, is a tremendous value ad that can be provided for organizations and clients around the world, but there's an absence of that integration that comes with the models that exist today, and unlike in other models, Klick's transformation program is exclusively focused on health care," he adds. "Our ability to understand how that personalization manifests is uniquely tuned to the health care space, as opposed to bringing in people who also work on toilet paper and cars and any other product on the planet. There's a big difference between an organization that works exclusively in health care and one that writes copy for automotive in the morning and oncology in the afternoon."
In addition to Lambert and Raduan, the agency has added Michael Becker as CFO of Klick Group; Shaun Chalk as EVP of global client operations; Catherine MacInnis as general counsel; and Jennifer White as global head of growth. Glen Webster, a longtime employee at Klick, has been named EVP of global operations.