RVH Foundation embraces healthy living
The hospital avoids sickness tropes in a pitch to a growing population in the region it serves.
Royal Victoria Regional Health Centre (RVH) Foundation is focusing on active living and intentionally eschewing tropes typical of hospital fundraising ads to convince more locals to become donors.
The new campaign shows different people living their lives outdoors, cliff diving, mountain biking and participating in tractor pulls, reminding its constituency that in order to be "wild," they have to be healthy.
The Simcoe and Muskoka regions, which RVH services, is experiencing big population growth. To target both long-time residents and seasonal cottagers, the campaign needed to hone in on an "essential truth": that the great outdoors is a unifying force, says Adrienne Clarke, VP of marketing and donor experience at RVH Foundation.
"It really is unique…and we really connect with that way of life and it really means something to us," Clarke says. "What we loved about what [creative agency] The Garden put in front of us, was that it wasn't a typical hospital campaign."
While there are some subtle references to healthcare in the "Keep Life Wild" campaign's 45-second anchor spot, like a close-up shot of a scar above a man's heart, the frenetic video puts the emphasis on being healthy and active.
"We knew we had to think really differently," Clarke says. "We want you to be healthy and get back out there."
"Keep Life Wild," created after The Garden won the RVH assignment earlier this year, is running through the end of 2022 across broadcast, online video, out-of-home and direct mail and is the first campaign wave in a new a new $100 million fundraising effort,the largest in Simcoe-Muskoka history.
Clarke, who joined the organization in January from the United Way of Greater Toronto, says RVH Foundation has successfully run big fundraising capital campaigns as their bread and butter, such as to launch its new cancer centre. The RVH Foundation has had generous major donors in the community who know the organization, and see it as a local institution. However, this campaign is about broadening the reach beyond stalwart donors.
The RVH Foundation is focused on Barrie and Innisfil this year to excite first-time monthly and major donors. Next year, it's broadening to Collingwood, Orillia and other communities it services to remind them of its offerings.
The core demographic is women, around 35 to 50, who overwhelmingly make household decisions regarding philanthropy. Women are also prominently featured in the anchor spot, including members of Peace and Wheelies, a social network of Collingwood, Horseshoe and Simcoe County downhill mountain bike enthusiasts.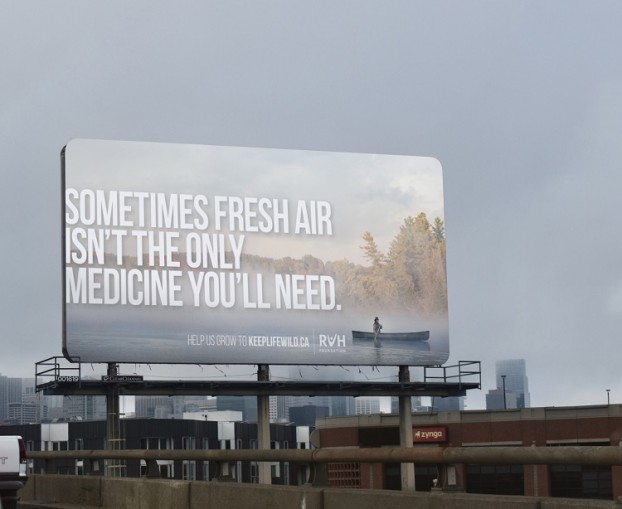 A direct mail piece features an ode to why people choose to live in Simcoe-Muskoka, highlighting region-specific activities like skiing at Mount St. Louis Moonstone.
It's never done a specific, consolidated and concerted big-scale media strategy and RVH worked with M&K Media to get this done. There is also a buy targeting local nightly news on CTV and female-friendly radio stations, part of an "even mix" between traditional and digital, Clarke says.
"We couldn't get saturation so we had to be strategic about where we placed," Clarke says.