Will Hyundai generate success with Genesis?
The company's new luxury brand looks to compete in a crowded space by focusing on the consumer experience.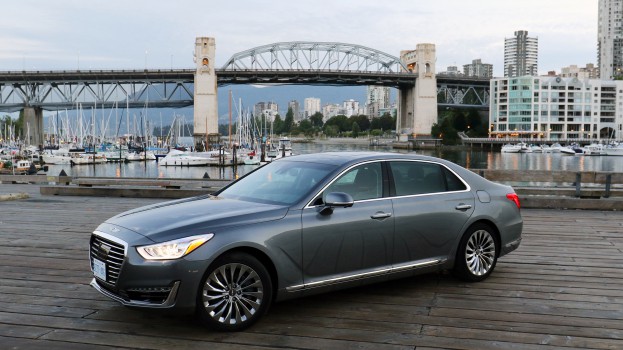 Hyundai is looking to take a bigger share of the luxury automotive market with the long-awaited launch of Genesis.
First announced last year, Genesis Motors is named for Hyundai's Genesis luxury sedan that was launched in 2008 and has now been spun off into its own, stand-alone luxury brand. Genesis is selling two models at launch – the G80 mid-sized sedan and the G90 full-sized sedan – and plans to expand to six models by 2021 by adding a sports coupe, a smaller sedan and SUVs, the latter of which has become an increasingly popular option for luxury buyers in Canada.
Globally, Genesis will be using creative services from Hyundai's agency Innocean Worldwide, but earlier this month, Faulhaber Communications was selected to lead a national, integrated communications strategy across Canada. Chad Heard, senior manager of public relations for Hyundai Auto Canada, says the marketing plan for Genesis in Canada will rely heavily on social and experiential activations, in addition to print, OOH and placements in Toronto's Pearson Airport.
Personalization and customer experience will be major areas of focus and differentiation for Genesis. In Canada, Genesis will have no dealerships at the launch, though it plans to launch several boutique retail locations in malls and shopping centres across the country by the middle of next year. Heard says that in five years or so, Hyundai plans to have roughly 30 traditional showrooms, though it is focusing on non-traditional ways at the outset to be more disruptive to differentiate itself.
Through the "Genesis at Home" program, consumers are picked up by a Genesis representative and taken on a test drive. As a Genesis owner, they're offered the option to have their vehicle picked up and returned for scheduled maintenance. The brand has also set up an online platform for leasing and finance paperwork, deposits and ordering a new vehicle.
It's also placing an emphasis on transparency when it comes to pricing. All quotes have set, all-inclusive pricing, and includes things like delivery and destination charges and maintenance packages.
"The current car buying model hasn't changed much in the last 100 years, even though the product itself has advanced by leaps and bounds," Heard says, pointing to a study conducted by AutoTrader in the U.S. that said only 17 out of 4,012 respondents like the existing car buying process. "That's a problem in the industry. We really see an opportunity in focusing on customer experience, building something that's human-centric, stress free, transparent and modern. In any industry, a new entrant in the market is the one that can best change the ways things have traditionally been done."
While Hyundai said consumer demand for the "Genesis badge" is what led to the spin-off in an announcement last year, the brand has catching up to to when it comes to what tends to define a luxury brand. Brands like Mercedes-Benz and BMW are considered prestigious and are sought out by consumers because they are status symbols, positions they've maintained by focusing on their history and heritage of quality engineering in their marketing, something a newer brand like Genesis is unable to do.
That's not necessarily an insurmountable challenge – Telsa, for example, has been successful by going in the opposite direction and positioning itself as a cutting-edge, tech-focused brand to drive its prestige. Heard says that history has to start somewhere and is something Genesis will build over time, adding that not having the "burden of legacy" at launch is what allows it to try new things and be more disruptive.
Peter Yannopoulos, professor of marketing and business strategy at Brock University's Goodman School of Business, wonders if the things Genesis is emphasizing are the kinds of things luxury car buyers are looking for. He agrees that things like eliminating hidden costs and the negotiation process is great way to simplify and improve the car buying process, but things like a concierge program ("Genesis at Home") might not provide the added value those buyers are looking for.
"A small percentage of luxury car buyers might like that, but it's kind of liking buying online," he says. "Not everyone shops online, and even those who do, don't want to buy everything that way. A lot of people still like going to a dealership so they can look around and get a feel for the car without an obligation to buy."
Heard says, though, that the methods Genesis is offering at launch all have ways for consumers to get to whatever level of trust they need to feel confident with a purchase, and bringing traditional dealership settings in the future will allow customers to pursue the exact buying experience they are most comfortable with.
The luxury auto market is also increasingly crowded. In addition to new entrants like Tesla, sales for brands like Lexus, Audi, Mercedes and BMW have surged in recent years, which makes finding a new place within that landscape more difficult.
Differentiating based on improved customer experience could potentially be a good place to start, but Yannopoulos has doubts that it will be disruptive enough.
"A user experience push is interesting, but the number one thing is the brand," he says. "The brand is what's going to get people to consider the product. If they want that to work, they need to be more disruptive and more daring in what they're doing. Tesla is doing well against all predictions because they're doing things totally different. Genesis has to be more risky and try different things instead of just copying or imitating things that are already out there."
There are positive signs, though. Hyundai has a track record of making improvements on its models, and bringing that engineering to Genesis could help drive prestige. Also, unlike in the U.S., Genesis will not be sold in Hyundai dealerships in Canada, and none of the brand's messaging thus far has mentioned Hyundai. That has created a distance from the "mainstream" Hyundai brand, something Yannopoulos says is vital to any luxury brand's success, pointing to the failed Volkswagen Phaeton as an example.
"Genesis has been associated with the Hyundai brand for a long time, and that association is going to stick around for a lot of buyers," Yannopoulos says. "If you're going to market something as a luxury brand, it can't be associated with your mainstream brand, and they've been selling Genesis in Hyundai dealerships for seven years."
For his part, Heard says that "getting into this space is not a sprint, it's a marathon."
"We will build that brand cache, but in order to do that, we have to do things properly and differently. Genesis will be a success if consumers talk as much about the buying process as they do about the product itself."