Wake-Ups has mass market dreams
The caffeine pill brand returns to advertising after 65 years with new videos and a rooster roaming the streets.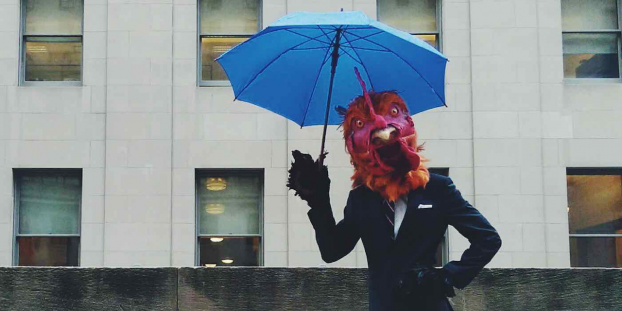 Wake-Ups first hit the market in 1951 but hasn't received much marketing attention since. Adrem Brands, which now owns the Canadian-born caffeine pill brand, has decided its been hitting snooze quite long enough. It launched a online video-led campaign on Monday.
Born in an era when taglines such as its "Stay Awake Any Time You Want" were the norm, Wake-Ups have now adopted "Drowsiness. It's not your friend" as a brand slogan for its first real marketing push in 65 years.
In advance of this week's campaign launch, Adrem wanted to get its rooster mascot back into consumers' minds with a bit of street work. A well-dressed rooster began appearing around Toronto in October, first at the all-night art event Nuit Blanche, then on public transit and in several well-trafficked neighbourhoods. Those early public forays were not branded, and people who spotted the haunting poultry-headed figure began posting about him on various online communities, such as Bunz.
That changed Monday when a series of video ads went live on Facebook and on Vice's group of sites. The videos from Tendril Studios shows the downside to drowsiness in various professions — from snake handlers to line cooks. The stylish urban rooster does not appear in the ads (just the retro-styled rooster on the packaging), but he will now strut around Toronto with a team of brand handlers in tow to spread the word about Wake-Ups. The company plans to bring the mascot to cities in Western Canada in the new year.
Patrick Marshall, Adrem's president, wants the product to appeal to a fairly diverse group. "We tend to think of caffeine pills as [being for] students and gamers. We hear from folks who certainly are in those demographics, but we're also hearing from a lot of athletes, drivers, things like that." The characters in the ads were, in turn, chosen to represent a broader range of consumers than those looking to pull an all-nighter.
"If someone had said they wanted to show a student at a desk, I would have said 'kill me now.'" Marshall said. "Yes, that an important consumer slice; we do see a [sales] blip around midterms. But we know there's a ton of athletes who want a caffeine product with a precise dosage and no extra sugar."
Adrem is looking to expand Wake-Ups' product line next year, but wouldn't go into too much detail on those plans. "One thing I will say is our goal is to get out of the pharma aisle and natural health aisle, and into the food aisles."
From Marketing