Specialty roundup
From the Oprah Winfrey Network to Quebecor's new offerings, execs weigh in on where Canadian specialty is faring well and where tweaks are needed.
There may not be a single recipe for creating a successful ad campaign for specialty television, but certain ingredients can be a sure bet. Partner with a popular program, weave your product into their show, promote across multiple properties and platforms – and perhaps most important of all, make it fun, and have a prize at the end.
Last spring, Scotties tissue paper brand utilized most of these steps when it partnered with HGTV's Pure Design host Samantha Pynn for a contest targeting home décor enthusiasts, which received almost 100,000 entries (36,300 uniques). The Kruger brand was integrated into HGTV's online properties where consumers could pick a tissue box to match a similarly decorated room. The contest, handled by Mindshare, was also promoted across other Shaw and Postmedia properties like Canada.com and an HGTV newsletter.
But in order to create these vehicles, specialty networks have to produce hits, and this is dependent on their investment in programming, their multi-platform approach, and an overall strategy that would ensure they stand out in increasingly competitive verticals. Unlike conventional TV, it's not lower budgets that have been affecting specialty TV for the past two years – it is the networks' commitment to these channels, says Rick Brace, CTV's president, specialty channels and in-house production.
Strategy talked to media and network execs for their take on what the specialty industry in Canada is doing well, focusing on four key demos – women, men, youth and francophone – and where there is a need for improvement.
Women: OWN-ing in a competitive vertical
Leading up to the launch of Oprah Winfrey's OWN network in Canada, her wide grin, flippy hair and ready stance graced streetcars and billboards throughout major cities in a huge marketing push by Corus, which owns the network in Canada. But the Oprah touch, although it has performed miracles on struggling book publishers and helped redeem weeping stars undergoing character assaults, did not immediately give a boost to the OWN network, which has been struggling to gain traction since its launch in March. In Canada, OWN is trailing at about 30% behind its predicted ratings figures, says Robert DaSilva, managing director, exchange and invention at Mindshare.
"It was a little bit of a surprise considering that we thought the whole halo effect of the Oprah name would help sustain their numbers, but it didn't," he says.
The specialty vertical that targets women is highly competitive, adds Michael Neale, VP, group account director, MediaCom, and to become a major player, OWN needs more Winfrey, he says.
"I think that the station will grow, I just think that Oprah needs to, and I think she will, get far more involved," Neale says. "She's not one to see things fail."
According to Corus, Winfrey, who wrapped her talk show finale last month, will be accessible to her fans exclusively through OWN programming.
"Of course they'll make it work!" says Neale, adding, "I think Corus has six months to a year to start getting it right."
"They have too much invested," he says, referring to chartered advertisers General Mills, Nissan and L'Oreal, for example, who are likely to be signed on for at least a year.
For better or worse, those advertisers decided to take advantage of the initial buzz – but not all could afford to do this. DaSilva credits Corus for providing nested OWN programming on W Network before the launch, which Walmart took advantage of, aligning itself with the OWN brand without shelling out for a charter placement.
"We increased our visibility around the nested programming and then during the first weeks of the OWN launch, we  increased our equity there," DaSilva says. "We decreased our share on other networks just for that window of time. It was a smart strategy on Walmart's part to piggyback on the benefits of all the buzz around the launch," he adds.
Corus, for its part, says it's up to the challenge to build up audiences, saying it has increased viewership by 40% in prime time over last year when the station was known as Viva.
"Oprah from the beginning has said that this is a build and it's not going to happen over night. We know that it takes time to build a network," says Susan Schaefer, VP, head of networks and marketing, Corus Entertainment. Schaefer predicts the station will gain more traction this summer with shows featuring Canadian divas Celine Dion and Shania Twain, and Rosie O'Donnell's return to daytime TV.
"The big question everyone has is, how will we see her?" says Schaefer.
The answer is Oprah's Encore, a 60-episode best-of run of the talk show, and another season of Oprah Presents Master Class, where she interviews high-profile celebs. Given that one of the most popular shows on OWN this past season was a behind-the-scenes program of Oprah, giving her more face time might have more pull than Canadian originals like Murder She Solved and Devil You Know, both added for another season.
"When a station is struggling — a station whose brand is Oprah — I'm not sure how homegrown content is going to drive the station. I would rather see more programming with Oprah in it, drive the core of it, and then the rest may follow," says Neale.
New for women this fall
My House, Your Money (W): During the recession, it became normal for adults who lost their jobs to move back in with their parents – unabashedly mooching free cable and home-cooked meals during their "funemployment." Perhaps the only way now for parents to get rid of their retro-aging children is to help pay for their starter home? This series, which follows prospective home-buyers who borrow money from family members in order to secure their dream home, could be a hit with disgruntled parents and young adults alike.
Roseanne's Nuts (W): A reality series about the irreverent comedienne as she manages her macadamia nut and livestock farm in Hawaii with her boyfriend Johnny Argent and son Jake. The Emmy-winning actress, who recently published a book, Roseannearchy, on the same topic, has a strong following among fans who love her honesty, humour and feminist trail-blazing, which makes this a likely hit for W.
The Rosie O'Donnell Show (OWN): O'Donnell's liberal opinions and argumentative streak helped boost ratings on The View, but she hasn't had her own platform since her talk show ended nearly 10 years ago. Much has changed in her personal life since then, which she often shares openly with her fans. O'Donnell divorced her wife, and her kids are now teenagers. Her new show is expected to be less celebrity-focused and will cover "real issues" like raising children, depression and weight control – but if anyone can amass a following on the seemingly mundane topics of everyday life, Rosie can.
Francophone: Could Quebecor change the norm?
It's true that Quebec's unique culture, language and high television consumption makes it an attractive market. But specialty TV isn't providing the same unique opportunities for advertisers that are available on French conventional TV, which is filled with original French-Canadian programming.
"There really isn't that much right now," says Erminia De Pippo, associate broadcast manager, broadcast investment group, MediaCom, of branded content opportunities in specialty. What might be game-changing in this market, however, is the introduction of new networks by Quebecor, which, because of its many content tentacles, has the ability to not just work with local stars, but also create new ones.
"They are a well-oiled, content-producing machine," Frédéric Rondeau, national media VP at Bos, says. "They have a record company, record stores, online music stores, magazines, tabloid papers…all that feeds the fire" when it comes to developing Quebec's own celeb frenzy, he says.
Quebecor subsidiary Groupe TVA recently launched a new specialty channel for women called Mlle, which targets the female demo from a cosmopolitan angle – focusing on fashion and careers.
Quebecor's other recent entries include YOOPA, a kids' station targeting toddlers with a high rate of co-viewing; the politically right-leaning news network Sun TV; as well as rebranding of channels like the home-improvement network CASA (Les idées de ma maison télé) and the suspense and thriller-focused addikTV (formerly known as Mystère), all of which may change the specialty TV landscape in the future.
New francophone shows this fall
Gardienne, agent double (Canal Vie): Quebec actor Jean-François Baril (Il était une fois dans le trouble) will play host on this series that tries to get kids to open up about their babysitters or guardians. It promises to bring the sort of hilarity of Kids Say the Darndest Things, which parents love to watch and should bring in high numbers of the mommy demo for Vie.
Secrets de style (Canal Vie): Style guru Louise Labrecque, a reporter and columnist in Quebec who has written a book on fashion, will become a personal stylist for a participant, offering advice on what to wear. Specialty does well with makeovers, and Labrecque has credibility among women in the province, which promises to make this a favourite.
Mon Dieu (Historia): Quebec TV legend Bernard Derome, who anchored the nightly Le Téléjournal on Radio-Canada for 28 years, will host this new six-part doc series that sets out to demystify Judaism, Christianity and Islam. Derome's reporting skills are a good fit for such weighty topics, and Quebec's unrelenting secularism combined with large communities of religious minorities should help Mon Dieu attract huge audiences.
Youth: Does Much still rule?
A lot has changed in recent years with respect to the way youth consume media and popular culture. But every year thousands of teenagers will, without fail, camp out on the street, skip school and frantically enter contests in order to win a MuchMusic Video Awards (MMVA) wristband – a golden ticket for those who want to see performances from the likes of Lady Gaga and Justin Bieber.
The awards show and its popularity is an example of how much of a stronghold music specialty channels still have on this demo – even if the kids aren't sitting around the TV eagerly awaiting the Top 30 Countdown every week.
So when H&M needed more credibility among youth, it signed on as a sponsor for the MMVAs, taking advantage of the multi-platform experience that Much can provide.
After inking the deal, "Now you have to figure out, 'what is the H&M product offering to the MMVAs, how seamlessly can it get in there?'" says MediaCom's Michael Neale of the sponsorship, handled by MediaCom, which had H&M design the MMVA wristbands and host a contest for fashion bloggers who'll report live from the show this month.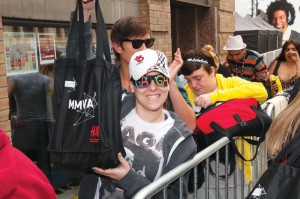 "Essentially, what they have to do is be very flexible," says Neale of MTV and Much. "Both stations have to go mobile more than ever; they have to be thinking beyond television quicker than anyone else because that's the type of market they're into," he says.
The stations also prove that programming is not just a TV strategy anymore, but key to online growth as well, because some shows will have a greater following on the web than on the air. MTV's reality series about a party-trouble gang, Jersey Shore, for example, gains more viewers online than CTV's conventional programs. A show like Gossip Girl is another good example, says CTV's Rick Brace because it has greater impact among audiences online.
Over at Corus's kids' specialties, a greater effort is going into creating shows that are a co-viewing success, taking cues from iCarley or Hannah Montana.
They believe they are on the right track with Mr. Young, a Canadian show about a teen genius, produced in Vancouver, which this spring was the number one show among kids aged 6 to 11, says Ted Ellis, VP, kids and family programming at Corus.
"Our longer-term strategy that we've been working on for a number of years is really focused on kid-driven shows that appeal to that co-view audience," Ellis says.
Since it's a two-for-one deal for advertisers, it's a no-brainer focus, and now there are stats to support the strategy.
"We've known for years that co-view was real but it wasn't until we had a shift in the PPM that we realized there was quantifiable evidence that this was happening."
New for youth this fall
Life With Boys (YTV): A 13-year-old who lives with three brothers and a widowed father struggles to understand and be understood by her family. If the premise sounds familiar, it's worth mentioning the series is produced by the co-creator and executive producer of Hannah Montana. Since Miley Cyrus isn't portraying the teen-in-turmoil guided by an overprotective patriarch anymore, this show will probably produce a new star to step into her shoes.
The Looney Tunes Show (Teletoon): Bugs Bunny and Daffy Duck star in this modern take on the classic characters developed in contemporary animation style and computer graphics. The reinterpretation should be a hit among animation fans and nostalgic young adults who may appreciate the vintage appeal.
Scare Tactics (MTV and Space): A cult favourite in the U.S., this reality prank show hosted by 30 Rock's Tracy Morgan will now scare Canadians by putting unknowing victims in terrifying situations using makeup, special effects and camera tricks. Each unsuspecting victim is set up by family member or a friend in the series, which is shot in Canada – kind of like Punk'd, but funnier, because it could happen to anyone.
Men: Just give 'em more sports
Bell Media's TSN last month announced a 10-year deal with Skate Canada, which means all the hopes, heartbreaks and athleticism that figure skating fans love will be broadcast exclusively on CTV, TSN and RDS, and their multimedia properties.
Broadcaster competition for live-to-air, big-ticket draws has never been tougher given the enormous audience appeal and ability to utilize multiple screens, as fans want access to updates while they're on the go. But by snatching up skating, and the next two FIFA Euro cups, is CTV making an effort to expand the sports reach to other demos?
It could be as simple as providing more women to appease major sponsors like Kraft and Unilever.
"It doesn't mean that we are going to try to universally appeal to females at the cost of other demographics," says CTV's Rick Brace. "But it does mean that tweaking your programming a little bit and appealing more to the female demo does put you in a sweet spot in terms of being able to access advertising."
But given all the sports net competition, how do all the players stay relevant?
The Score has live programming like NCAA, and it provides news in bits-and-bytes, which makes them popular and gives them the ability to brag about having one of the most downloaded mobile apps out there, as ScoreMobile is the third largest mobile app provider.
Considering the popularity of WWE on the network, The Score realized that somewhere between Monday Night Raw and Friday Night SmackDown there is more room for sports entertainment. That's what's behind recent additions like HBO comedy series Eastbound & Down, written by Will Ferrell and Zach Galifianakis, which will air this summer, and Blue Mountain State, a college football series that's about "everything that surrounds being a college athlete," and helps The Score court the younger male demo, explains Greg Sansone, VP of television at The Score.
"That is really a term that the WWE coined – sports entertainment. We're building off that by carrying other shows that are around the entertainment vein," Sansone says.
Currently, The Score is also in the midst of production for its third year of one of the most successful branded content integrations in Canada – Gillette Drafted, a cross-Canada search for a sportscaster that offers the winner a gig on the network.
Drafted is not just an example of a sponsor becoming embedded in the content, explains Michael Neale, whose agency MediaCom handled the deal, it's also about the brand becoming the content, he says.
"How do we really extend this and make it, from a consumer's point of view, like Gillette is really part of The Score?" says Neale, about the contest that runs for six months of a year, and is a major investment for P&G.
The key concern with any branded integration is whether it's going to alienate the consumer by being too campy, and this has not been the case with Drafted.
"The key Score viewer honestly believes that they're not watching a sponsorship, although they are – it's more of a collaboration of content," Neale says. The contest also flows from online to TV to mobile, which Neale adds is a must for the station's core fan.
Sports networks in general have no choice but to quickly develop new apps if they want to keep the male youth demo interested at all.  "Anybody under 30 is going to want to have a TSN app. If you don't realize that, you're losing a part of your universe," he says.
Since Stewart Johnston took over as president of TSN last fall, the net has expanded distribution channels and consumer touchpoints including the launch of TSN Radio 1050 and TSN Mobile TV. Shaw has also applied to the CRTC in hopes of launching its own sports network by December. With all the sports eyeball competition, is piling on more sports the best opportunity to build a male audience?
"I think Canadian men are so obsessed with sports … it's maybe a case of, don't give them more choice, just give them more sports," says Neale.
"Obviously conventional television can grab male viewers, but it's going to be an expensive grab because it has to be the Super Bowl, or the Grey Cup or the Stanley Cup."
New for men this fall
Blue Mountain State (The Score): Former New York Jets player Ed Marinaro stars as a coach in this half-hour comedy series about players on college football team "The Goats." The racy series has been renewed on Spike TV in the U.S. because of a growth in year-over-year ratings, with a huge boost in men aged 18 to 24, as the show deals with topics like sex, binge-drinking, bullying and authority.  Filmed in Montreal, the half-hour comedy is produced by Eric Falconer (The Sarah Silverman Program, It's Always Sunny in Philadelphia) and should fall in line with The Score's new effort to boost its sports-in-entertainment offerings.
2011 Skate Canada International (TSN): During the Olympics, figure skating programs were often second only to hockey in the ratings – 15 million Canadians tuned in to watch some part of a couples' skate competition on the 11th day in Vancouver. Stars who won hearts and broke hearts, including Patrick Chan, Joannie Rochette and couples team Tessa Virtue and Scott Moir, will begin performing again starting Oct. 27 with a competition at the Hershey Centre in Mississauga. Last year, media buyers cited large co-viewing figures on sports channels among the female demo  – since figure skating skews female, now it's time for husbands and boyfriends to sit on the couch and return the favour.
Ridiculousness (MTV): Hosted by skateboarder Rob Dyrdek (Rob and Big, Rob Dyrdek's Fantasy Factory) this series takes funny amateur internet videos and turns them into a TV episode by airing them on a studio set, with an audience of fans and celebrity guests such as Johnny Knoxville and Ryan Dunn (both of Jackass). Dyrdek has a strong following and infectious energy, which, when combined with the promise of hilarious internet memes, have already helped create online buzz for this program.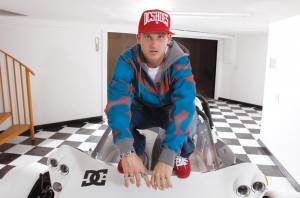 Jump to:
Time for your close up
Prime-time battlegrounds
Addressable advertising: the census revolution
Web TV: the new online operators
Social TV: building branded communities
Television to go
The National Fall TV schedule 2011/12 (PDF)