Tetley Infusions break from the norm
The tea mix flips the switch on daily routines with a stunt involving personal butlers.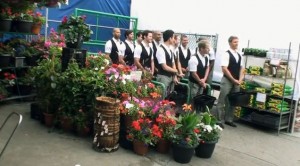 Breaking monotonous routines was the idea behind the summer campaign for Tetley Canada's Infusions.

With media by MediaCom, creative from John St. and sampling from Toronto-based Fuse Marketing, the "Routine Experiment #1″ campaign is the first from Tetley Canada to be both print-free and introduce a YouTube video into its digital component, says Andrea Stodart, brand manager, Tetley Canada.

"We wanted to think of what it would be like if we took everyday routines and turned them on their head," she says. "So we went to a grocery store in Port Credit, Ontario and replaced the grocery carts with personal butlers."

Targeted at women aged 25 to 54, the campaign also includes a 30-second television commercial and internet ads running on health and lifestyle sites, including She Knows.

A contest to win a trip to the set of CBC's Being Erica, along with a "routine breaking" trip to Toronto is also running on Tetley Canada's Facebook page and Tetley Infusions samples will be handed out during summer festivals in Toronto, Vancouver and Calgary.

The campaign launched earlier this month and runs until the middle of September.