Corona sings a summer tune
The Molson Coors brand breaks the city landscape with a beach backdrop and karaoke booth.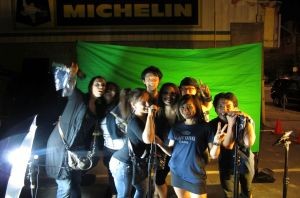 Why go to a stuffy karaoke bar when you can sing your heart out on the bustling city streets? Better yet, why not have your face projected onto a massive wall with a beach background while you're at it?

This summer, Corona is giving Canadians the opportunity to do just that with a pop-up karaoke booth in the entertainment district areas of Toronto, Vancouver and Montreal.

Happening sporadically every Thursday, Friday and Saturday evening, karaoke participants are ushered into a green screen booth where they can select one of four beach backgrounds and a summer-themed song to sing. While singing to the crowd of onlookers, the participant's face is projected onto a nearby building with the chosen backdrop. A video of their musical performance is posted the next day to Facebook where they are invited to share.

The outdoor sing-along experience is a build on the brand's "Find Your Beach" campaign that looks to help consumers find their happy place, says Deborah Komlodi, head of media, Molson Coors Canada.

"The summer-themed songs echo the escape and summertime fun that the [Find Your Beach] promotion is all about," she says.

Engaging with consumers of legal drinking age to 34-years-old, the promotion was planned by MEC, with Grassroots Media on the creative and is supported by Facebook ads and invites, says Komlodi.

Further information about the overall campaign is handed out on postcards and Corona prize packs are given to participants on-site.