At home with P&G
Falguni Desai, category brand manager for home care, shares the strategy behind Febreze's "Breathe Happy" mission and her battle to get Dawn into the cart.
You can always close your eyes, but you can't shut your nose. That's the insight behind Febreze's "Breathe Happy" campaign, which launched this summer and continues through the fall.
"We took real people from off the street and put them into unconventional odour situations," explains Falguni Desai, category brand manager for home care, Procter & Gamble Canada. "We want to show that anyone can breathe happy – no matter what."
In a series of "odour experiments," blindfolded participants were led into mystery locations – from a dingy thrift store to a dive hotel – that had been rigged with hidden cameras and spritzed with Febreze. As participants unwittingly sat on couches pulled from the dump, sprawled on dirty beds and shared the room with musky dogs, food scraps and other filth, they were asked to describe what they smelled. Unaware of their squalid surroundings, people described the scent as fresh and clean, with hints of flowers, fruit and open fields – or in one saucy gentleman's case, "It reminds me of a lady."
"The whole premise was showing how the power of Febreze can eliminate even the toughest smells," Desai says.
The incongruity of the visuals with what people think they smell, along with the shocked looks on their faces when removing their blindfolds, drive the point home in a memorable, more humorous way for the traditionally staid brand.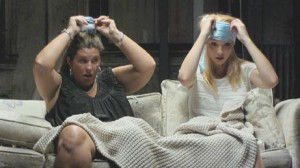 It's the first time Febreze has based an entire campaign around the reactions of real people, rather than actors.
The creative by Grey New York – which took home a Silver and a Bronze Lion at Cannes – is being used across North America, with TV, print and radio currently running in Canada and media handled by Starcom MediaVest Group in Toronto.
The ads drive to Facebook, a key component of the campaign, where consumers can watch more videos and "like" the page for access to contests and product updates.
"We just hit almost half a million Facebook 'likes' for North America, with a disproportionate amount of those being Canadians," says Desai, who is less than a year into her remit heading up home care, which encompasses Swiffer, Mr. Clean, Febreze, Cascade, Dawn and Ivory.
"We've had a huge [digital] push on our businesses because that's where our consumers are. They're spending a lot of time online, in different social network communities, and I think it's important for us to be there to share our brand message but also to provide really engaging content."
Content has proved to be a valuable marketing tool across P&G's different portfolios, from its beauty mag Rouge to Tampax's BeingGirl.ca, and in this case, the company is hoping the humour value of Febreze's odour experiments will make these videos a must-share.
"Febreze 'Breathe Happy' is a way to bring some excitement to a category that a lot of folks aren't excited about," Desai says.
In addition to the Facebook page, a Febreze YouTube channel houses the TV spots and a
behind-the-scenes video from the three-day shoot.
Febreze has also been engaging consumers in conversations about scent through its Twitter account, including what smells they love and hate, and what associations are triggered by them.
This summer, with help from social research organization TNS Canada, P&G also conducted a Canadian "Scentsus," asking 1,000 people to weigh in on the smelliest places in the country – info that was then used in a PR push by MSL Canada. (In case you're curious, top picks included pulp and paper mills, a recycling/composting plant and porta-potties.)
The survey also found that 95% of Canadians believe scents are tied to memories and 85% agree that a pleasant smelling environment equals a clean environment, lending credence to the "Breathe Happy" positioning.
In the U.S., Febreze has had a presence at such odorous events as the Gilroy Garlic Festival in California, and Desai says Canadian activations are also in the works, but details had yet to be confirmed at press time.
"We want to have really great activations to bring this extreme scent experience to life," Desai says.
Febreze isn't the only brand Desai is striving to bring to life, and she's got a tougher battle on her hands with Dawn. While the dish detergent is the market leader in the U.S., known for its ability to cut through grease, it's still finding its footing here in Canada.
"Dawn's had a lot of history in the U.S., it's been around for a really long time," explains Desai. "But it's a new entrant to the Canadian market." The brand launched nationally in the U.S. in 1976, but didn't have its national Canadian launch until 2001, and the team is still learning what works best here.
Last year, Dawn's big marketing efforts focused on its wildlife program. As Desai explains, "Dawn does more than just the dishes – it's used to clean animals caught in oil spills. It's something we've done as a company for over 30 years and the rescue organizations use it because not only does it remove the grease, it's also really gentle on the feathers and skin of the animals."
The "aww"-inspiring TV spot "Wash Away" showed ducks, otters and penguins being bathed in Dawn, to simulate how the product is used after an oil spill, while on-pack offers encouraged consumers to go online to activate a $1 donation to wildlife organizations.
Although Canadian consumers loved the ads, which were created by New York-based Kaplan Thaler Group, Desai says very few made the connection between Dawn's grease-cutting ability and its use for wildlife outreach. In other words, they didn't realize that what makes it effective at removing oil from animals would also remove the grease from their dishes.
"From a marketing and communications standpoint, what they took away is that Dawn is a company that helps save animals," she says. "But they didn't really take away the grease message."
With Dawn Ultra Original Scent, a powerhouse SKU in the U.S., launching now in the Canadian market, the plan is to be a lot more direct with this point of differentiation.
"A lot of Canadians use diluted products, and Dawn is more concentrated," Desai says. "So we want to educate the market on the value."
In-store communication is trumpeting the notion that one drop of ultra-concentrated Dawn has the grease-cutting power of two drops of the leading non-concentrated brand, while also pointing out that Dawn is from the makers of Cascade.
A new TV spot by Kaplan Thaler Group features a talking sponge rallying its team of dish-washing supplies with the new Dawn stepping in as its star player. One shot shows the detergent repelling grease from the surface of the water in a kitchen sink while an underwater sequence reveals grease being lifted from a soiled plate.
Of course, there's no substitute for trying the product. "I've done a lot of in-home [visits] in the past weeks, as I've been trying to understand the consumer needs," Desai says. "[The average consumer] has never heard of Dawn but when we give her a sample, she's amazed. One of the big opportunities for us is getting Dawn into her hands through sampling and trial."
In fact, Desai says sampling is a key factor for many of the brands she oversees. "We invest a lot in our innovation and our products and technology and my team here in Canada is really focused on trial and awareness, because we know that if we can get it into her hands and she tries it, she's going to love it," she says.
While the Canadian team is leveraging proprietary P&G channels like BrandSampler, which allows consumers to request samples and print coupons online, Desai says they're always investigating what other vehicles are out there.
With the goal of delivering double-digit growth for the home care business and spearheading a best-in-class, high performing team, she's been rallying her troops.
"One of the things we've done in the last few months is created a team purpose for us, and we talk a lot about going beyond household penetration and how do we make every household into a home," she says. "It's really important that we create homes that they love to live in through the brands that we offer."

***

Bio

Born: Surat, India, May 12, 1982
Education: Desai completed a bachelor of biology at Indiana University while taking business courses as part of the school's liberal arts and management program. "I always wanted to combine my love of the sciences with a business background," she says.
Career: She started with P&G's U.S. office fresh out of school, as an assistant brand manager for gastro-intestinal drug Asacol. From there, she moved into the beauty and grooming division, becoming a brand manager for Pantene Asia. She moved to Canada for her current position in February.
Size of marketing team: Seven