Bell makes social art
The mobile phone co creates portraits out of the words consumers share most on their social networks.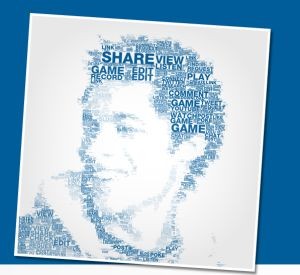 Bell Mobility is is making Twitter and Facebook users into works of art with its new Social Portrait.

Users visit Portrait.bell.ca and create a word-based portrait of themselves using the words most often mentioned in either their Facebook, or Twitter feeds.

The idea for the campaign, with creative by Teehan + Lax and media by Media Experts, came out of a OOH project from earlier this year which never ran, says Teehan + Lax partner Jeremy Bell.

"While working with some of the other agencies for a quarterly campaign we were doing there was an idea for a billboard campaign and out of that there was an interesting observation made about the consumer and how they are starting to use mobile devices for things like Facebook and Twitter," he says. "We had this insight that people are using these things increasingly, creating a virtual persona, and the things I create on Facebook and Twitter is a reflection of who I am."

Targeted at people aged 18-to-50 who currently use other service providers, users who create a Social Portrait are presented with benefits of the Bell network during the portrait creation process, says Bell.

The Bell Social Portrait will be promoted through Facebook ads and a YouTube video explaining where the idea for the campaign came from. Portraits uploaded to the site will be voted on by visitors and the one with the most clicks will win a smartphone with free service for a year and have their Social Portrait used in an upcoming Bell OOH campaign.