Quebec Milk Producers create OOH art
The Federation of Milk Producers of Quebec (FMPQ) launches a large outdoor marketing campaign to show the comforts of milk.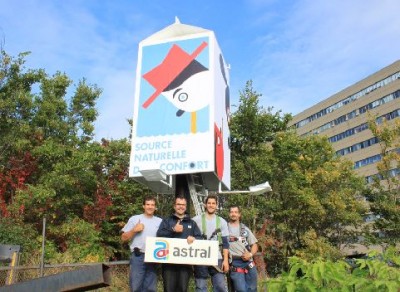 Giant-size 3D milk cartons have been placed beside highways and roads in Montreal and Quebec City as part of the newest ad campaign put forth by Nolin BBDO on behalf of the Quebec Federation of Milk Producers.
The creative was designed by six local artists, showing their expression of milk and how it is a "natural source of comfort."
A wide-spread outdoor media buy from Astral OOH is supporting the campaign with 3D posters and digital billboards placed at metro stations, mega-murals at road intersections, wild postering as well as displays in universities showing consumers the comforts of milk.
Additionally, the federation will be placing four inserts into Metro newspapers which contain only positive news. They will be distributed in peak-hour traffic areas from Oct. 17 to 24 as well as Nov. 7 to 14.
Stéphane Charier, creative director, Nolin BBDO, says that the federation wanted to avoid running a generic milk campaign, and instead show art and emotion through the artist's milk carton canvas.
"Everyone has their own idea of what comfort is and there are several ways to show it – art is one," she says. "This is where we got the idea of asking Quebec artists to represent their ideas of comfort on a canvas in the shape of a giant milk container."