DAOY Honourable Mention: Taxi's big digital fares
Taxi rounds out the top five in Digital Agency of the Year with work for Telus, Canadian Tire and Microsoft.
It's not surprising Taxi has found success in the digital arena. With the recent hiring of Brian Clarey, GM Taxi digital, and Sean McDonald, director of digital strategy, the agency has taken on a bevy of new digital clients. It's the digital/social AOR for McCain, and the digital AOR for Johnson & Johnson, working on Listerine, Tylenol, Benylin. Other client wins include Bombardier and Sun Products including Sunlight Laundry, Sunlight Dish and Snuggle.
Telus goes pink
Last fall Telus asked Taxi to develop a magazine campaign to communicate an initiative in which $25 from the sale of three BlackBerry models would be donated to breast cancer research. But rather than developing the expected magazine campaign, Taxi believed the right social media idea would create more impact.
The "Go Pink" campaign featured a pink chameleon, and creative encouraged Canadians to turn their Facebook profile picture pink through an app that Taxi developed. Each time someone did, Telus would donate one dollar to breast cancer research.
The campaign included out of home and cinema, as well as interactive shopping mall kiosks encouraging people to touch the chameleons that appeared on a screen to turn them pink. In online banner ads, the chameleons turned pink every time they appeared on screen.
Just 72 hours after launch, the $50,000 donation target was reached. Telus announced donations would grow to $200,000 if 500,000 people participated. Within two weeks, half a million people had turned their pictures pink and that goal was met. By the campaign's end, 817,000 people had gone pink and Telus added 442,770 new Facebook fans. "Go Pink" resulted in a $2.45 million donation – almost double the anticipated target.
Canadian Tire's House of Innovation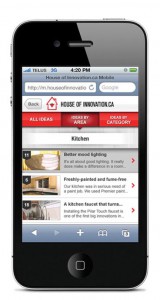 The House of Innovation was an idea that came from an agency initiative, and it quickly grew into one of Canadian Tire's biggest commitments of the year.
To showcase its innovative products to DIY homeowners, Canadian Tire put itself in their shoes by becoming the first retailer to be a Canadian homeowner itself. It bought a house that needed a bit of work, moved in and took on a long list of repairs, improvements, and decorating upgrades. Efforts were filmed to educate homeowners about how to take on typical home improvement projects.
HouseofInnovation.ca showcased every project and, most importantly, highlighted all the innovative products used to complete the work.
Within the first four weeks, the number of unique visitors surpassed 105,000. The average time spent on the site per visit was more than five minutes. And in a single 24-hour period, a YouTube mosaic expandable banner generated 8,812,314 impressions and 39,389,550 interactions. And there had been more than 3.5 million views of the anthem video that explains the program and invites people back for future installments.
Microsoft's Battle for Beauty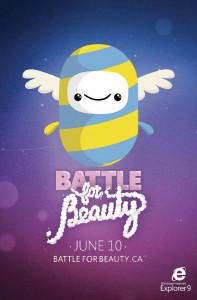 After a redesign, Microsoft wanted to support the launch of Internet Explorer 9 and improve perception among technology trendsetters while getting the larger public to adopt it.
Techies and mainstream users both love games. So Microsoft created "The Battle for Beauty," an game played online and in the real world, built in HTML5. Users could attack the ugly side of the web: wait time, privacy invasion and cluttered interfaces. Characters represented both the ugly, and the beautiful side that Microsoft champions.
Ugly critters were played by non-IE9 users, whose gaming experiences were limited, an incentive to upgrade their web experience by downloading IE9 directly from the game environment.
The game was projected onto multimedia screens on the streets of Toronto where passersby threw IE9 balls at ugly critters on the screen.
The event was supported by web banners, an email blast and other Microsoft network placements. Taxi created a Facebook event, published wall posts across Microsoft Canada fan pages, set up a Twitter account that was updated during the event, and built a behind-the-scenes Tumblr blog.
In the end, over 1,200 people participated and nearly two million impressions were reached in June alone. Furthermore, 55% of online players used Internet Explorer 9 to play the game, a conversion rate far beyond Microsoft's wildest forecasts.

Jump to:

DAOY Gold: Proximity's disciplined approach to digital

DAOY Silver: BBDO's digital push pays off

DAOY Bronze: The unignorable drives John St.

DAOY Honourable Mention: Grip's digital growth