DAOY Silver: BBDO's digital push pays off
BBDO takes Silver in Digital Agency of the Year with work for Doritos, Shaw and Skittles.
BBDO Canada rocked the strategy award circuit this year. It raked in a Bronze B!G Award this fall for its Shaw Cablesystems' Together is Amazing Food Bank Initiative, and it took the Gold for Agency of the Year. Now, to demonstrate it's more than a traditional agency, it's won Silver for DAOY, beat out only by its digital twin, Proximity.
As North American president and CEO Gerry Frascione explains, digital has become an important focus woven into BBDO's culture.
"For us digital is not a department or a special skill set," Frascione says. "It's a way of thinking."
There's a term used around the office – "dreaming in digital" – that epitomizes the firm's philosophy.
"It's only once you start to dream in that language that you actually know you've internalized digital as a way of being," Frascione says. "It's our shorthand way of inspiring our staff not to think of it as a discipline or practice – it's curiosity, an approach, everyone is expected to dream in digital for their clients."
Though digital has been a focus for the last five years, in the past year and a half the firm has really ramped up its digital expertise, hiring over 20 new creative people, says co-SVP and ECD Carlos Moreno. "That digital knowledge had to come with them," he says.
"As we expanded our digital imagination we wanted to make sure we were hiring digital natives," adds Frascione, also Canadian chair for both companies. Developing that expertise in-house is important because even though BBDO owns digital-savvy Proximity, Frascione says they want to ensure that both are strong through-the-line agencies that can compete as standalones, as well as collaborate on shared accounts such as RBC. A staff growth of 18% for BBDO and Proximity is evidence of the firm's impressive trajectory from August 2010 to August 2011, notes Frascione.
Training is another important piece of the pie, with 2.5% of annual revenue invested in professional development, and increasingly on the digital side, says Frascione. An online hub powered by Google called the Digital Lab is the epicentre of digital innovation for the company, providing expert training forums for employees and also functioning as an information portal for all digital innovative in the company – staff and even clients can access it to stay on top of the latest ideas, campaigns, newsletters and more.
And while having that talent is vital, great digital ideas come out of great ideas, period.
"It's not about technology per se, it's about the idea that led us to that type of execution," Moreno says.
Co-SVP and ECD Peter Ignazi cites the chicken channel BBDO developed for Swiss Chalet as an example. The idea of a 24-hour TV channel devoted to roasting chicken wasn't necessarily about innovation on the digital front, nor was the idea related to a new medium.
"It's about looking at old mediums in new ways," Ignazi says.
The Cannes-award winning "Touch the Rainbow" work BBDO did for Skittles is another example of a neat idea driving a digital campaign that wasn't wrought from a digital innovation.
"We call it our non-technological technological advance," says Tim Welsh, SVP, creative operations officer. "[The question was], 'how do you engage with an ad by putting your finger on the screen?'"
"The temptation is to chase after the latest shiny digital thing," says Ignazi. "So we make sure we're aware of [all the digital innovations], then when it comes to planning we see what's appropriate for reaching the target at that time."
The facts
Offices: Toronto, Montreal, Calgary
Staff: 310
New hires: Kevin Pfuhl, SVP, managing director; Lezlie Grossman, SVP, managing director; Nancy Crimi, VP, associate creative director; Deborah Prenger, VP, associate creative director; Steve Walls, planning director, Blackberry North America; Jason Perdue, copywriter; Jeff Cheung, art director; Jon Murray, copywriter; Patrick Shing, art director; Neal Khosla, copywriter; Marla Goodman, creative traffic manager
New business: Ministry of Health; Mike Holmes (Holmes On Homes); United Way; Heineken; Miller Chill; Mars (Dove, Twix, Pedigree, Whiskas, Starburst)
Skittles has the digital touch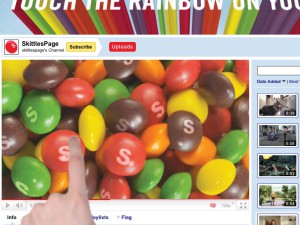 BBDO thought Wrigley brand Skittles' quirky, popular campaign offered an opportunity to generate earned media with engaging content. With touch technology spearheading a new generation of digital interaction, BBDO wanted to show people what happens when they actually "Touch the Rainbow." But instead of inventing new technology, the agency created the world's first non-technological touch tech. It asked people to touch their computer screen as their finger played a starring role in five online ads: "Cat," "Cage Cop," "Hitchhiker," "War Finger" and "Skittles Girl."
Fingers fought crime, hitchhiked, befriended cats and even went to war. The videos "magically" knew if people moved their finger away and posted text inviting them to put it back.
The videos were hosted on a branded Canadian Skittles channel on YouTube, seeded to nearly 300 blogs and linked to Skittles' Facebook page. In addition, a masthead on the YouTube homepage ran for two days and YouTube promoted video ads ran for two weeks.
Over a month, the videos received over five million views and were featured on 2,200 blogs. The campaign rose to the top of viral video charts all over the world. In fact, it stayed at number one on AdAge's The Top Ten Viral Video Ads Chart for two weeks. The Skittles videos elicited over 104,600 comments, 88,000 Facebook shares and 5,000 tweets. Further confidential sales results were supplied to the judges.
Skittles also had over 11,000 YouTube channel subscribers, which was more than any channel during the month of April. In total, over the month, over 60 million media impressions were earned.
And at this year's Cannes Festival, "Cat" secured a Gold Cyber Lion while "Cat," "Cage Cop" and "Hitchhiker" won a Gold Campaign Film Lion. The campaign was the only Canadian work chosen to be part of Google's Creative Canvas, a collection of innovative creative as judged by Google.
Shaw brings people together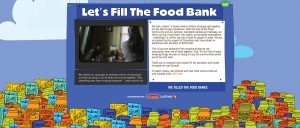 To maintain loyalty and customer growth in the competitive communications category, Shaw had to create an emotional connection and change people's perception of it from a company that provides technology to one that connects people.
The "Joy of We" became the key message, with the brand platform of "Together Is Amazing."
Togetherisamazing.com was launched to create a digital community centre where people all over the Shaw network could get together and do great things – either virtually on the site, or using it to organize a live initiative.
Next Shaw needed to get employees and consumers to bring it to life.
"Together is Amazing" was integrated across all Shaw product lines and communications. The agency developed an internal manifesto video – the rallying cry for the new platform – and employees received a T-shirt with a single letter and had to join with other employees and photograph themselves spelling out "Together is Amazing."
To translate togetherness into action, Shaw actively engaged employees to fill every food bank in every Shaw community during the 2010 holiday season. To support the initiative, BBDO developed a section within the "Together Is Amazing" website where people could find the closest food bank, organize local grassroots food drives and find out how to help. The goal was to raise one million pounds of food. The awareness campaign included TV, print, and online ads.
At the end of the food drive, Shaw's actual total of food raised indexed at 260% of their goal, in excess of 2.6 million pounds of food, the largest food drive in our country's history. The site itself became, and continues to be, a hub for people to start their own initiatives, from local literacy programs to charity golf events to building homes in Africa.
Doritos asks fans for big finish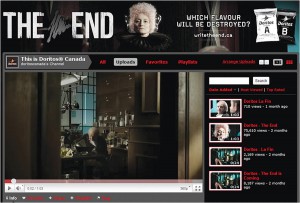 In keeping with its user-generated strategy, Frito Lay brand Doritos wanted to find a consumer-driven way to introduce one of two new flavours: Onion Rings n' Ketchup or Buffalo Wings n' Ranch.
The beginning of "The End" was marked by the release of the two new flavours to stores across Canada. BBDO designed the packaging — a bold, white bag marked "A" for Onion Rings n' Ketchup, and a contrasting black bag marked "B" for Buffalo Wings n' Ranch.
The campaign launched with a 60-second commercial during the Super Bowl. The twist? The last 20 seconds hadn't been written yet. The first 40 seconds of the commercial set up the premise: that there were two new flavours on store shelves and one of them must be destroyed. The commercial cut out and consumers were invited to go to Writetheend.ca where they could use a 3D virtual antique typewriter to say which flavour should be destroyed and how in 400 characters or less, and have their entry voted on.
The contest was pushed with online
ads, social media pages and posts, and with a traditional media buy on teen-centric TV channels.
A  panel of judges picked the winner from the 14 entries with the most votes. BBDO shot the winning ending, but kept the spot and the winner under wraps until May 5, when it debuted on MuchMusic and MusiquePlus. In the end, Mélanie Normandin of Repentigny, Quebec walked away with a cheque for $25,000 plus 1% of all future Onion Rings n' Ketchup sales.
The 30,000 submissions Writetheend.ca received exceeded Frito Lay's goal of 6,000 entries by 500%. They garnered nearly 300,000 votes, and over the course of the campaign, the site received more than 550,000 visits.
The campaign also generated 244 media stories chronicling "The End" and over 187 million PR impressions. It led to a marked increase in the number of Doritos fans on Facebook and followers on Twitter. Further confidential sales results were shared with the judges.

Jump to:

DAOY Gold: Proximity's disciplined approach to digital

DAOY Bronze: The unignorable drives John St.

DAOY Honourable Mention: Grip's digital growth

DAOY Honourable Mention: Taxi's big digital fares