Leo Burnett is back in the Agency of the Year game after having taken home Gold in 1996 and Bronze in 1997. It's been a good year. Its "Cap Recall" work for James Ready took home a Silver Lion at Cannes, also winning an AToMiC Gold for Experiential Engagement. In the spring, CCO Judy John added CEO to her title, helming the firm's work for the much-coveted Ikea Canada account, which it won earlier this year. It also added Suzuki, Ontario Savings Bonds, Perimeter Institute and Foodland Ontario to its roster.
JR goes beyond the buck
James Ready now has a reputation for opening its brand up to drinker-collaboration, so the plan was to stay true to its purpose – to make drinkers essential to every bottle of beer and help them save money in a tough year, so that they could buy more.
Leo Burnett launched five key programs. With Billboard Coupons, JR partnered with small businesses to offering money-saving deals. People could take pictures of the billboards, show retailers and save on purchases.
JR then asked drinkers, "How can we help you save money?" The best response was, "Can you help us with our wedding?" On May 1, Dean and Cori-Ann Litster held their James Ready wedding, including invitations crafted out of beer labels and a bottle-topped wedding cake.
For the brand's university fans, JR offered money-savers like free semi-professional haircuts and free portraits for a thrifty Christmas gift. A Beer Cap Calendar was included in every case to ensure drinkers didn't miss an important date like pub night.
Traditionally, James Ready provides words of wisdom underneath every bottle cap. However, in late June there was a mix up at the plant and 2,423,407 caps went out blank. The brand issued an apology video on Facebook and asked drinkers to send in their blank caps in exchange for a mystery gift, such as a used hockey card.
During the period, shipments of 24 packs increased 27% VYA, while total volume including on-premise sales increased 24.3% VYA. This is the brand's fourth year of consecutive growth, and the campaign picked up awards at shows including Cannes, the One Show, D&AD, the Clios and AToMiC.
Raising The Roof shows possibilities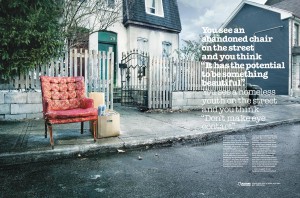 Raising the Roof is Canada's only national charity devoted to long-term solutions for homeless youth. It had to overcome the challenges of donor fatigue, and the fact that homeless youth are a stigmatized group that people would rather ignore than help.
People believed that homeless youth were all drug addicted, or on the street by choice. The insight was to reduce the social distance between Canadians and these young people to trigger sympathy and altruistic behavior.
In February 2011, "Possibility," a TV, radio, OOH and ambient campaign, was launched. To make the cause visible, it challenged existing prejudicial stereotypes through messages that focused on youth potential, not negativity. TV and radio drove people to the website where volunteer and donation opportunities were highlighted. OOH and ambient elements were placed in specific locations where people might encounter homeless youth to challenge existing stereotypes.
The campaign generated 637,600 impressions and achieved a 71% positive engagement score, +11% above norm (source: MSL Canada). Raising the Roof also triggered action by challenging Canadians to perform 65,000 positive acts in recognition of the 65,000 kids who are homeless – acts like sharing the Facebook page with a friend, or buying a RTR toque. In total it generated 100,255 positive acts, exceeding the goal by 65%. And the campaign came away with a Silver Cannes Lion.
Flight Network takes off with new branding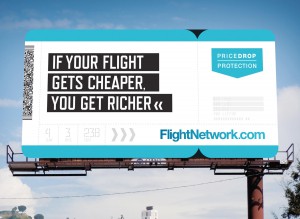 Flight Network operates in the highly competitive online travel agent (OTA) sector. While it had been around since 1998, it was a site that people stumbled across in Google searches rather than specifically sought out.
The trip itself should be fun, but booking it often isn't, with concerns like, "Did I get the best price? The best seat? The right insurance?" Trust is key, and people ranked Flight Network lower in trust versus the other OTAs. To change that, Leo Burnett tapped the insight that travellers want to experience the wonders of the unexpected on their trip, not while they book it.
The first task was a complete redesign of the Flight Network brand identity and a new look and feel for all communications. Next, the agency focused on the Price Drop Protection guarantee, which would be an icon that would help instill confidence in booking a flight.
In July 2011, the Flight Network redesign and the new campaign were revealed across newspaper, radio, online and OOH.
Before the campaign, interest in Flight Network as seen in Google Analytics was on par with the travel category overall. Immediately following the brand relaunch, interest in Flight Network has increased 50% versus the category.
The ADCC elicits Love/Hate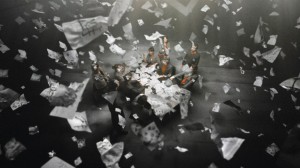 Every year, the Advertising and Design Club of Canada (ADCC) selects one agency to create the overall theme and design for their show, including call for entries communications and the annual.
To stand out in a crowded awards landscape and impress a tough creative audience, Leo Burnett went with the theme of love and hate – two rival emotions in the advertising and design business that people battle between every day.
Each piece of communication had two sides to it, with black assigned for love and red for hate. A reversible word mark was created to read "Love" when seen one way and "Hate" when seen the other. The call for entries included posters that spoke about things that ad people wrestle with and presented both a hate and love take on them. The annual came in both colours, and allowed people to customize it with perforated dots to create a word they thought best described that year's work. The opening film for the show displayed the never-ending battle between love and hate.
The campaign was recognized at Cannes, the One Show, the Bessies, the ADCC and Applied Arts.
Era detergent is Chuck Norris approved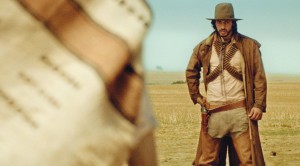 Era laundry detergent competes in the discount segment, but is priced at the higher end of it. With the current economic environment, why buy Era if there is an even cheaper brand?
It was discovered that there was a group of women who were willing to spend if they could get the same cleaning power of a premium brand without the premium price. This target had a simple acid-test for a good detergent: did it get the stain out?
Drawing on the brand's "tough on stains" heritage and "straight-shooter" personality, Era launched a campaign called "Fight." It teamed up with Chuck Norris, an internet sensation thanks to ChuckNorrisFacts.com and its claims about him (e.g., he stared at the sun and the sun went blind).
Using Norris-like slogans such as, "Era makes stains stain themselves," four Era legends, multiple Era-isms and a Facebook game, "Stain Kicker," were unleashed online.
In the first three weeks of the new campaign, Era had achieved 7.2 million media impressions, with a positive engagement score of 81.5%, which is 21.5 points above the industry norm (MSL Canada). The Facebook game was played by 13,000 people within the first three weeks. And fans have begun writing their own Era-isms, such as "Era doesn't just kick stains, it watches them self-destruct in fear."
Jump to:
AOY Gold: BBDO maps out a win
AOY Silver: DDB keeps exploring – and expanding
AOY Bronze: Taxi revs its engine
AOY Finalist: John St. hits its stride
AOY Finalist: Rethink's winning streak