The wallet goes digital
Visa is set to launch a digital wallet and services platform, while in the US Google has already jumped on the concept with NFC technology.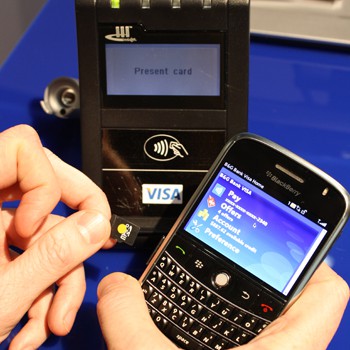 Visa is digitizing your wallet. The company recently unveiled a digital wallet and services platform that has initially taken form as an e-commerce tool, but will eventually enter a second phase that will allow users to make purchases at the point of sale with a mere swipe of their smartphone.
The platform, which Derek Colfer, business leader, global mobile product innovation, Visa Canada, says is set to launch soon in Canada and the US, is being supported north of the border by RBC, Scotiabank and TD Bank. It stores Visa and non-Visa payment accounts, allowing users to expedite the online purchasing process with "click to buy," requiring only a username and password to purchase a product online, as opposed to a billing address, account number and expiration date.
Visa's digital wallet also incorporates preference management, whereby users can determine how their digital wallet works, enabling customization and control of the wallet's privacy settings to determine which account will be accessed based on merchant type or purchase amount. The service will also incorporate merchant offers, allowing users to opt-in to receive money-saving discounts or promotions from participating merchants. Third-party loyalty card programs are also part in parcel with the platform. The most important selling point of Visa's wallet, says Colfer, will be the sense of security seeded by the Visa stamp.
"One of the things that we bring to the table on the Visa side is our level of trust," says Colfer. "So, in the physical world, we've been known for our trust and the fact that you've got that Visa logo on a plastic card allowing you a level of comfort in performing transactions globally and knowing that they're secure. In the digital space that will also exist, so I think that trust element on the Visa side is going to be critical for consumer adoption of the digital wallet."
When Visa takes its digital wallet into the mobile space, it will use near field communication technology (NFC) – the same tech currently being employed in plastic to enable contactless Paypass and Paywave transactions – to allow shoppers to use their phones to make POS purchases. Colfer says that the intelligence of mobile devices will help to augment the merchant offers and loyalty integrations that come as part of Visa's digital wallet service.
"As consumers start embracing NFC and embracing mobile payments at the point of sale, they're going to start using those devices even more because of their intelligence," says Colfer. "Things like loyalty, rewards, coupons, discounts, all of these various aspects or value-added services that you can attach to that payment will provide a tremendous amount of value to customers and merchants as well."
In the US Google is already testing its own version of the digital wallet, an app called Google Wallet that allows users to make mobile payments at the point of sale with their smartphones. Visa recently got on board, signing a licensing deal with the internet behemoth that has allowed it to incorporate Visa Paywave tech. The holdback to traction of NFC mobile payment options in Canada is a lack of NFC-ready devices, says Colfer, adding that during the Mobile World Congress in 2010, many of the device manufacturers committed to mass integration of NFC tech in their devices going forward.
Despite the lack of NFC-ready phones in Canada, a syndicated study conducted by Toronto-based marketing research insights company Hotspex has indicated that Canadians would readily embrace smartphones as mobile wallets. The study's key findings indicated that the concept appeals to 39% of Canadians and that simply making Canadians aware of what a mobile wallet is would increase usage intent by almost 100%.
Photo by: Tom Purves, Flickr, Creative Commons