Kestin & Vonk: pooled talent is better than one
As the internationally renowned duo venture into new waters with Swim, strategy reflects on their impact on the biz.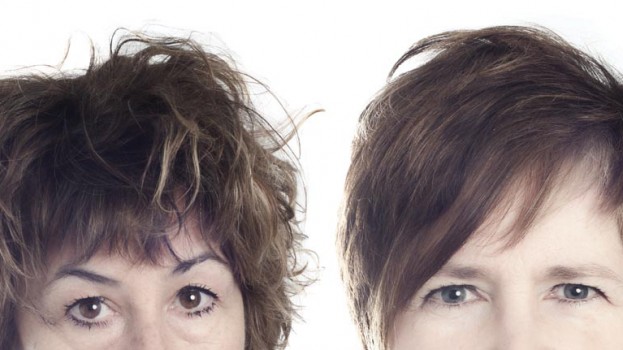 By Lucy Saddleton
Creating iconic campaigns that reverberate globally – and trigger change in the ad world – is just one of the many things Nancy Vonk and Janet Kestin do rather well. The internationally renowned duo, who spent 13 years as co-chief creative officers of Ogilvy & Mather's Toronto office, have also been crusaders for women in the ad industry, co-authored a critically acclaimed book (and they're working on another), raised children and won a plethora of global awards for their advertising. In fact, the pair, dubbed "Jancy," recently left Ogilvy's helm to focus on one of their favorite pursuits – imparting their collected wisdom on others. Swim, a creative leadership training lab, launched in October to address the dearth of training in the ad industry. As we mourn their exit from Canada's ad scene, strategy looks back at the significant contributions of this unique and genuine partnership.
How it all began
Rarely have two creative minds worked together as flawlessly as Kestin and Vonk, whose paths crossed by chance in 1989. Vonk stumbled into advertising following encouragement from a female professor at the University of Delaware. She worked at small U.S. agencies before moving to Toronto on a whim. After a brief stint at SMW Advertising, she became an art director at Ogilvy & Mather.
Meanwhile, Kestin had started her advertising career at Eaton's in Montreal before making the move to Toronto where she took on brief stints at Young & Rubicam, Ogilvy & Mather and Leo Burnett. In an attempt to break free from the industry, she took a stab at several other careers, including writing for a magazine and even singing in a band.
In 1989, Kestin took on a contract for Ogilvy, working as a freelance copywriter on a campaign for a feminine hygiene product. Vonk was the art director on that campaign.
"It was a love-at-first-sight kind of friendship," says Kestin. "We both became spectacularly stronger because of each other."
Vonk concurs: "Meeting Janet was the biggest moment in my career. She complements my skills and brings out the best in me."
Kestin took on a permanent position at the agency in 1991, working in partnership with Vonk. The pair rolled out numerous successful campaigns and slowly climbed the ladder, working with a diverse list of high-profile brands, from Kraft's Maxwell House and Shreddies to Unilever's Dove and Hellmann's.
After turning down invitations to become the chief creative officers for five years, they finally agreed to accept the challenge in 1998.
"We didn't really have the ambition to do that at first," explains Vonk. "But when Steve Landsberg left the CD job, we didn't want to risk some jerk coming in and being our boss, so we said, 'How hard can it be?'"
"I'm the happy person that gave them the job," says Dennis Stief, Ogilvy Toronto's CEO, of the partnership. "I had a belief that they would do something marvellous, and they did."
Growing the next generation
Kestin and Vonk have always been passionate about imparting their wisdom and developing talent. During their reign at Ogilvy, they were known for encouraging collaboration between junior and senior staff, and always took interns under their wing. As a result, Ogilvy developed a reputation as a seeding ground for creatives who go on to more senior roles, either within Ogilvy or at other shops.
Ogilvy's Dennis Stief says of the pair: "Their ability to nurture interns and help make them great was always a terrific strength."
"We were interested in other people doing well because advertising is a team sport, and a weak team isn't ideal," Kestin pragmatically explains.
In 2003, the overwhelming volume of questions from interns sparked the idea for "Ask Jancy," an advice column for young advertisers on ad blogging site Ihaveanidea.org. The column was an instant hit and continues to generate queries.
"Ask Jancy" was parlayed into the book Pick Me: Breaking Into Advertising and Staying There, which was published by Adweek Books in 2005 and has since become a staple in advertising schools all over the world. Vonk regards the book as the greatest achievement of her career.
Crusaders for women
Another cause dear to their hearts has been the lot of women creatives in a Mad Men-dominated world. Keenly aware of the inequality in the ad industry from an early age, Kestin has always fought for the rights of women, and was a role model to other women in the industry.
"It has been a lifelong passion for me. This industry was created by men for men," says Kestin.
Vonk came to care about the gender balance later in life, specifically in 2005 when she wrote an article on Ihaveanidea.org in response to alleged sexist remarks about women in advertising. The remark was made by ad legend and WPP Group's worldwide creative director, Neil French, who suggested that women struggle to reach the senior ranks because they choose motherhood over career.
"Women's rights were not important to me until the Neil French thing happened," Vonk says. "I had been very myopic about the issue so it was a reality check." Vonk's article, "Female Like Me," argued that "advertising remains in the dark ages as other fields reap the benefits of workforces glittering with talented women."
She called on women to take French's comments as "a load of crap that inspires you to prove Neil and friends wrong." Vonk's article sparked a torrent of debate about the gender issue and French ultimately resigned.
Passion for women's achievement sparked the founding of "Been There" in 2006 by a group of top North American female creative directors, including Kestin and Vonk. The online mentoring resource for younger women launched on Creativeskirts.com.
Ogilvy CEO Stief notes, "Janet and Nancy's stature has empowered a lot of other young women to think that they could do great things as well."
Judy John, CEO and CCO of Leo Burnett Toronto, previously worked for Vonk and Kestin at Ogilvy and is now one of the most highly regarded people in the Toronto ad industry. Although John says she never considered gender to be an obstacle, she does say Kestin and Vonk's "talent was inspiring to me."
After keynoting the Women of Influence event in 2008, Kestin and Vonk were commissioned by HarperCollins to write their second book. This time it's a book for women in all areas of business, expected to be published in 2013.
Swimming forward
The next chapter for Kestin and Vonk is a new venture that allows them to focus on helping individuals and teams excel.
After teaching advertising at Toronto's Humber College, OCAD, VCU Brandcenter and a number of U.S. universities, their love for raising new talent and seeing other people flourish grew organically into the idea for Swim.
"We felt that there were gaps that we could fill so we dreamt up a way to do that," says Kestin.
Toronto-based Swim is open to clients from all around the world, from different organizations, and for varied timeframes. Senior creatives from founding client Ogilvy's U.S. operations have embarked on a two-year program consisting of online and face-to-face training with both Kestin and Vonk as teachers. Three-weeks of online pre-work took place in October followed by the first face time starting in New York on Nov. 3.
Kestin says the teaching methods are unconventional and involve a mix of group work and personal coaching as well as workshops with guest stars from outside industries such as actors, inventors and political speech writers.
"Part of the deal is to take them outside of themselves," explains Kestin. "If we look outside of our own world we can more successfully engage in someone else's."
The Swim founders are in discussions with potential new clients ranging from CPGs to law firms, universities and government bodies, as well as agencies.
Though Kestin and Vonk's departure undoubtedly rocked the boat at Ogilvy's Toronto office, Stief says that their successor Ian Mackellar is already making his own mark as new CCO. And although Janet and Nancy have left the building, Stief says, "They're still part of the Ogilvy world so we see them lots. We're very proud of them and we wish them well."
For her part, Unilever's Sharon MacLeod says, "I'm excited for a new era with Ian, but it's a sad day for us to see Janet and Nancy leave."
While the duo expects to miss working with the team at Ogilvy Toronto, Kestin and Vonk believe that they picked the right time to move on. "There's a moment when you know that it's better for everybody," says Kestin. "It's better for them to have Ian there, and it's better for us to be Swimming."
THE WORK
Dove: "a brand that makes a difference"
Almost as soon as their partnership began, Kestin and Vonk began to create groundbreaking, award-winning work. In 1991-92, they rolled out the now-famous "Litmus" campaign, which used litmus paper to demonstrate the neutral pH of Dove, in contrast to the high alkaline content of other soaps. By assuming that consumers would be more responsive to a scientific study than to Dove's earlier ads, Kestin and Vonk changed the way the brand was marketed across the world.
"We've always had a desire to confront things and expose or peel away layers because that's the way we think," says Kestin.
Vonk says they wanted to counter the idea that advertising to women couldn't be scientific.
"I am proud of the campaign for the intelligence that it injected into the brand," she says. The campaign was one of the cases published by the Harvard Business School and is a permanent display at the Royal Ontario Museum in Toronto.
The Campaign for Real Beauty was the next giant leap forward for Dove. Led by Kestin and Vonk's team in 2004, it rapidly went global. The Dove Self Esteem Fund followed a year later, again led by the Canadian team. Kestin and Vonk spearheaded non-traditional means to get the point across, such as the live theatrical production Body & Soul, performed in Toronto in 2008.
"Janet and Nancy paved the way for things that were completely unconventional," says Unilever's Dove director, Sharon MacLeod, who worked closely with the duo. "They both cared as much as I do in terms of how committed they were and passionate about what's right for the brand."
Ogilvy Toronto's viral video, "Evolution" (pictured above), was a huge part of the Campaign For Real Beauty, making history as the first ad to win two Grand Prix awards at Cannes in 2007. "Evolution" has been lauded for questioning the unrealistic portrayal of beauty by the media and beauty industry. In Canada, the video helped fuel double-digit growth in sales of Dove beauty products, making the Canadian market the global leader for the brand.
"It was thrilling to be part of that," says Vonk. "A brand that makes a difference. I'm still really flabbergasted by the impact that it continues to have."
Hellmann's: "cultural meaning"
In 2007, Kestin and Vonk's "Real Food Movement" concept for Hellmann's was another example of transcending advertising, resulting in meaningful communication with societal impact.
The "Eat Real, Eat Local" effort emphasized Hellmann's all-natural ingredients with a multi-city community project that turned parking lots into urban gardens. The campaign went on to include a mini-documentary about the amount of imported versus homegrown produce in Canada's food system. Market share for Hellmann's mayonnaise increased to 29.3% up from 25% over the three-year project.
"The higher goal with this was to make people think about future consumption," says Kestin. "The notion that advertising can have a cultural meaning and can be used to make a point larger than itself without losing itself in the process has always been important to us." The campaign swept up a Grand Prix and two Golds at the CASSIES.
Diamond Shreddies: "diabolically disruptive"
On the heels of Dove, other clients became open to taking risks, giving rise to more successful campaigns including the tongue-in-cheek product launch of Diamond Shreddies, for which Kestin and Vonk's team was awarded a Grand Clio in 2008. The campaign, which grew from a summer intern's idea, involved a faux product launch of a "diamond-shaped" version of the usually-square cereal.
"It was diabolically disruptive," says Vonk.
The campaign brought an 18% increase in baseline sales for Kraft within a month of rolling out the program nationally, versus the previous year. It achieved its goal of reviving a tired brand by generating a raging online debate about the sincerity of the campaign. Kestin and Vonk still use the campaign as a case study in their many lectures to students.
Timex: "a small idea that became a global hit"
Vonk and Kestin both rank Timex Canada's Olympic-themed campaign for Timex Indiglo Night Light watches among their favourites. Launched in 1997, the campaign used a combination of backlights and superboards to demonstrate the new lighting properties of the watch. During the day the watch appeared to be unlit, while at night the unique blue glow on the dial face demonstrated the new technology. The campaign won Gold at Cannes.
"Janet had the idea in a client meeting," says Vonk. "It was a small idea that became a global hit." The duo became CCOs right on the heels of the campaign.